Last week, Donald Trump said he would show his tax returns when Obama showed his birth certificate.
Well, Obama has released his birth certificate. When will we get to see Trump's tax returns?
Of course, instead Trump took credit for forcing Obama to release his birth certificate and then started demanding to see Obama's student records. As one person said, this is why you never negotiate with terrorists.
On the other hand, if Trump releases his tax returns, we might get a closer look at the four (count 'em) times that Trump's businesses declared bankruptcy.
Ok, I'm going to officially stop giving Trump any more attention. He is a lying, hypocritical joke.
UPDATE: Jon Stewart weighs in:
UPDATE 2: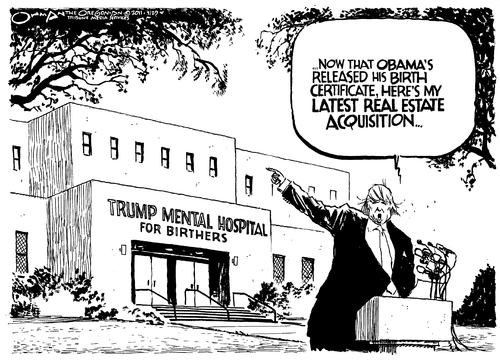 © Jack Ohman
UPDATE 3: Even more lies. He's definitely qualified to be the Republican nominee for president.