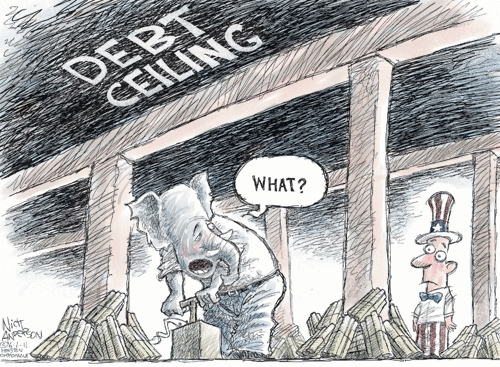 © Nick Anderson
As Forbes points out, 94% of the US debt problem comes directly from policies set during the Bush administration. At the end of the Clinton administration, the CBO was projecting a budget surplus of $12.7 trillion, but today it the debt is at $14.3 trillion. How did that happen? About 50% of that is due to the Bush tax cuts, and 12% due to Bush's increased spending for two wars and the unfunded Medicare prescription drug benefit.
Federal tax collections as a percentage of GDP are the lowest they have been in over 60 years. But the Republicans refuse to raise taxes. In fact, they want to cut taxes on the rich even more, which is what got us into this mess in the first place. If cutting taxes for the rich creates jobs, then we should be awash in them right now. Bush cut taxes dramatically, but had the worst job creation in 60 years.
For Republicans to claim that they care about deficits is the height of hypocrisy. What they are trying to do will more likely destroy our country.