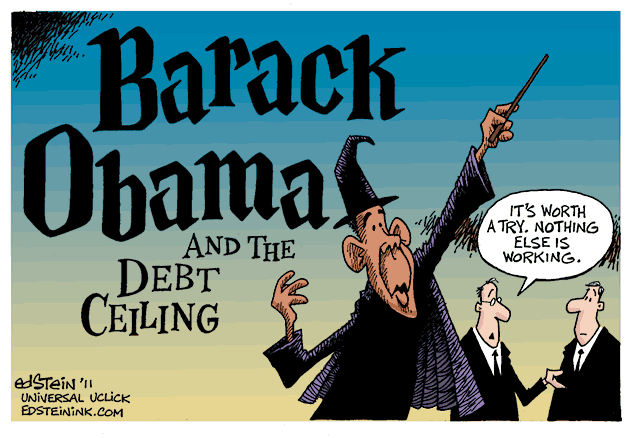 © Ed Stein
Once again Ed Stein has good commentary to go along with his comic:
Well, it's come to this. The forces of evil, in the name of ideological purity, are threatening to destroy what's left of the nation's economy. The good guys are powerless in the face of the unrelenting assault on sanity. There will be no compromise. Only one person can save us now. Unfortunately, Harry Potter is fictional, and magic doesn't work in the Muggle world of Washington. Come to think of it, nothing works in Washington. The only thing left, apparently, is a cowardly scheme concocted by Senate minority leader Mitch McConnell, in which the legislature gives Obama the unilateral power to raise the debt ceiling against a promise of future budget cuts. The GOP leadership understands (even if their members don't) that failure to raise the debt ceiling is not an option, and that they will be blamed if the nation defaults, but rather than force their members to do the right thing, they correctly calculate that Obama, the only adult in the room, will make the hard choice, even if it costs him politically. Republicans get to wash their hands of the entire mess and blame Obama for whatever he ends up doing. The world's economy will temporarily be saved, and the GOP will get to stay pure on taxes and have a field day running against Obama on his failure to cut the deficit sufficiently. Only in the insanity that is today's Washington can refusing to do the job you were elected to do be seen as the winning strategy in the next election.
UPDATE: See also this comic.