Two articles give potential solutions to some of our political problems. Both attempt to limit, or at least modify, the power of our currently gridlocked political parties.
In the New York Times is an article "Make Way for the Radical Center" that talks about a new startup called "Americans Elect" that is attempting to use the Internet to create a new third party. Their goal is to get a presidential candidate on all 50 state ballots for the 2012 election. As they put it:
Americans Elect is the first-ever open nominating process. We're using the Internet to give every single voter — Democrat, Republican or independent — the power to nominate a presidential ticket in 2012. The people will choose the issues. The people will choose the candidates. And in a secure, online convention next June, the people will make history by putting their choice on the ballot in every state.
Just like internet companies have increased competition in the marketplace, Americans Elect aims to the same thing to the two-party system that dominates our politics, to remove the barriers to real competition.
In The Atlantic is an article "How to Turn Republicans and Democrats Into Americans" on reforming Congress to remove some of the more partisan problems written by former Republican Congressman Mickey Edwards. He has some very good ideas, like taking away Congressional redistricting from the political parties, open primaries, and decreasing the partisan influence on committees and amendments. The idea is to make Congress more interested in solving our country's problems than on advancing a partisan agenda. In an era where Nancy Pelosi said her most important goal was to elect more Democrats, and Mitch McConnell said his primary job was to make Obama a one-term president, this is could be a refreshing change.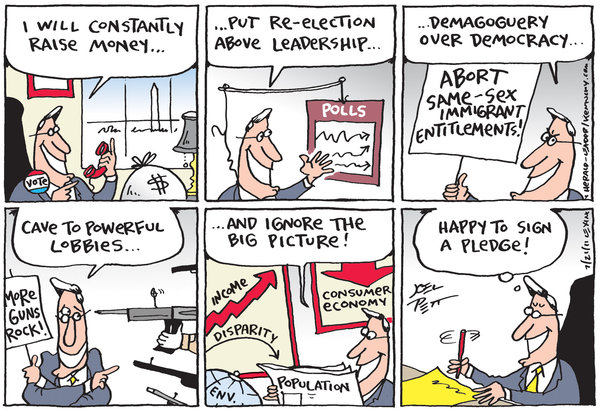 © Joel Pett
UPDATE: Speaking of Apps, here's one that almost all of us will welcome. It is a plugin for the Firefox browser that warns you when you visit a website that is owned by Rupert Murdoch or a member of his family (including, of course, Fox News). You can even set it to block those sites if you want. There is a similar plug-in for Google's Chrome browser as well.