James Warren has an excellent article in The Atlantic "Get Over It: This Is Who Obama Is", which provides a reality check for those who are mad at Obama about the debt ceiling deal (even though it was written before the deal was done).
Those people (I'm looking at you, progressives) who are angry at Obama for this deal are missing the point. In the face of virtually impossible odds, Obama managed to pull out a deal at the last minute when people like me didn't think it had a chance.
If you want to be angry at anyone, get really angry at the voters who elected politicians who were willing to do anything, even hold our country hostage, just in order to make Obama look bad. If your response to this deal is to be angry at Obama, then the partisans have won, and you will have helped them.
Instead, do everything you can to make sure the next election fixes this problem. After all, even the most moderate Republican candidate for the presidency, Mitt Romney, is blasting this deal as too liberal. Other GOP candidates are worse. Is that what you want?
Or would you have wanted Obama to stand firm and watch the government default … on "principle"? Arguments that negotiating with "terrorists" only makes them worse forget that these are terrorists that we can vote out of office. After that comes the real work of fixing our government so it is not completely beholden to money and power.
Don't get me wrong. There are things about which I'm pissed off at Obama, but this is not one of them. This is not an unforced error.
It is often said that liberals eat their own, but if we are going to fix our government we need to remain focused on the goal, and not get discouraged any time things don't go entirely our way.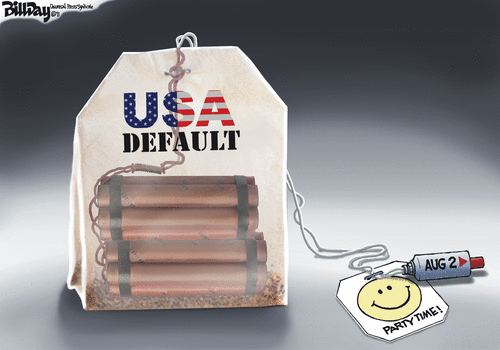 © Bill Day
UPDATE: And furthermore, to all those people who think Obama unilaterally capitulated in the debt ceiling deal … upon just what are you basing your screaming and wringing of hands? Here's a progressive voice that gives a convincing argument that Obama left the Republicans holding the teabag, and ate John Boehner's lunch to boot.