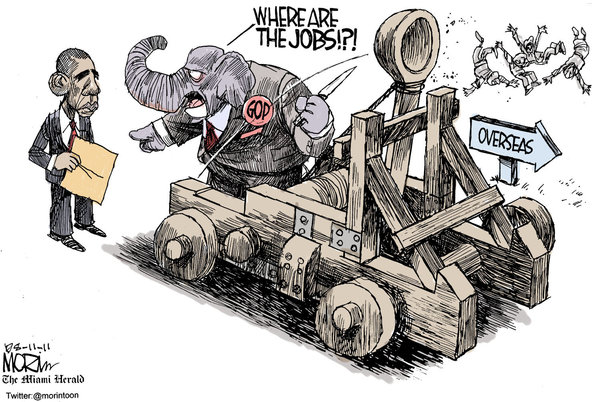 © Jim Morin
Have the Republicans actually done anything at all to create jobs? Well, other than their very tired and utterly refuted refrain that cutting taxes will fix our economy and increase jobs?
After all, if cutting taxes leads to job creation, then the end of Dubya's presidency should have seen employment increasing instead of cratering. And between 1945 and 1964 — when taxes on income over $200,000 was over 90% — should have been a great depression (in case you can't remember, it wasn't).
Can anyone name one other thing the Republicans are proposing to put people back to work? Will they end subsidies for sending jobs to other countries? All I hear them promise is to repeal health care reform, end abortion, and "protect marriage". How is that going to create jobs?
In fact, reducing the deficit, which appears to be the highest priority now that we don't have a Republican president, seems certain to result in higher unemployment.