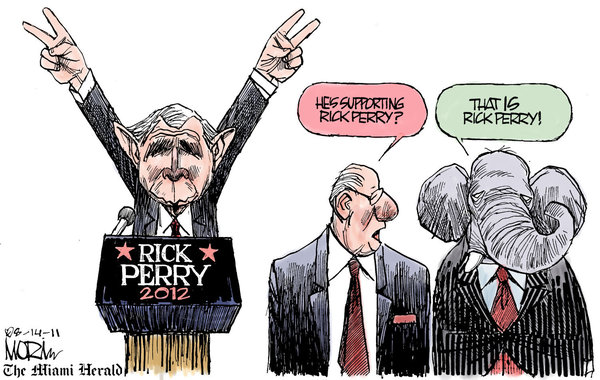 © Jim Morin
Of course, there are differences between Bush and Perry. For example, Bush mostly pretended to be a fundamentalist Christian, while Perry is a full tilt Dominionist, who believes that Christians have a God-mandated right and duty to rule all earthly institutions according to God's law.
UPDATE: Jon Stewart on Rick Perry (including the resemblance to Dubya). Hilarious.
UPDATE 2: The Cristian Science Monitor has an enlightening article about an upcoming book about Rick Perry entitled "Adios Mofo: Why Rick Perry Will Make America Miss George W. Bush". The book describes Perry as an "ideologue with scant interest or success in governing".