Former Secretary of Labor Robert Reich has an excellent article in the NY Times about the rather direct correlation to how well the middle class is doing to how well the economy does. (Memo to supply-siders: trickle down economics does not work, and has never worked. It is, as George Bush Sr. put it in 1979, "voodoo economics").
When the gap between rich and poor has gotten larger, the economy has suffered. But when the rich take a smaller cut of national income, the economy does much better. In fact, even the rich do better when they share the wealth — they may get a smaller slice but it is a far larger pie. The extent to which this is true is made evident by the following infographic: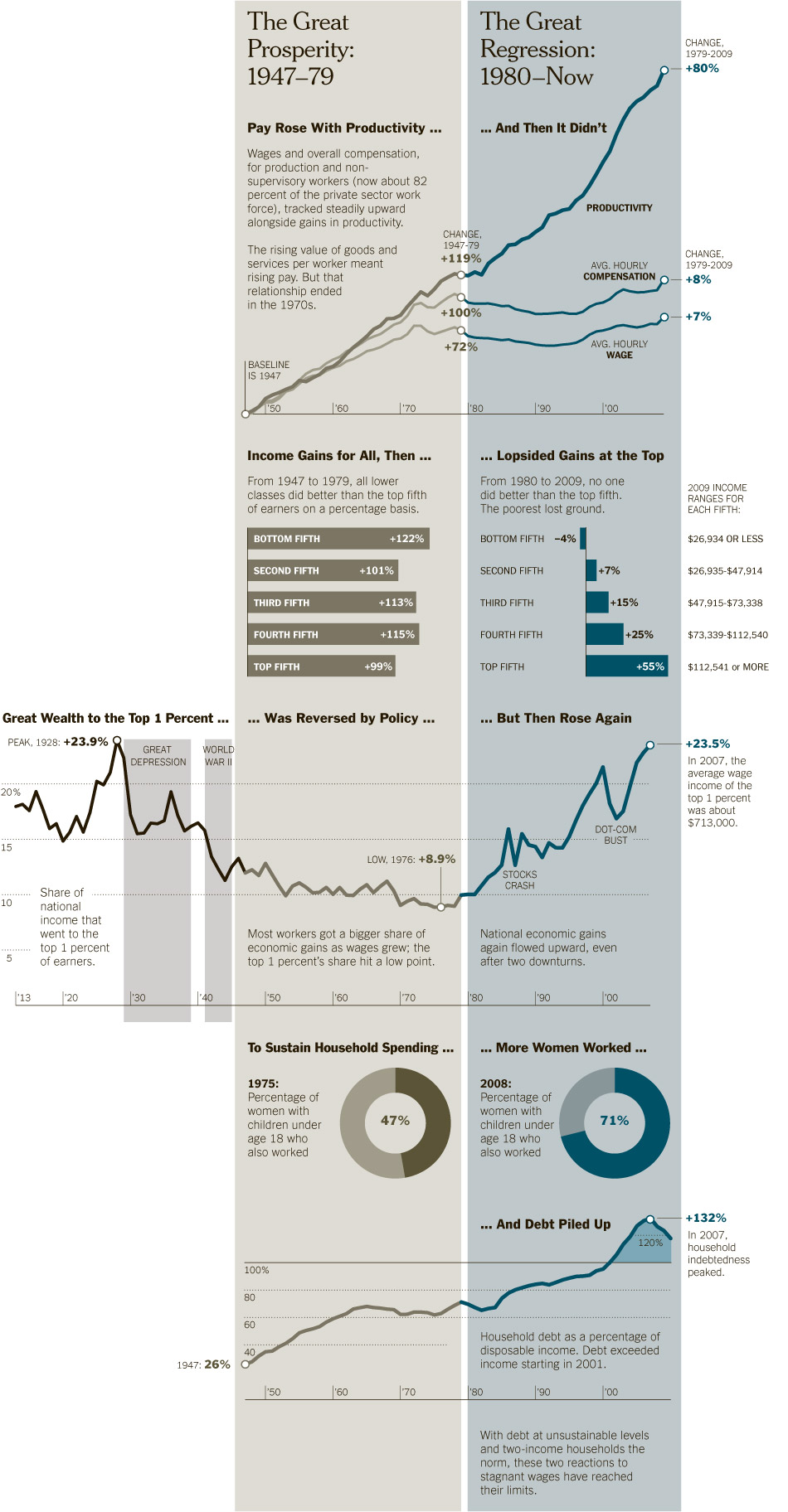 Note in the first graph, productivity has been growing steadily with the exception of a small hiccup in the late 70s (mainly caused by the spike in oil prices). But when we came out of that hiccup, something changed. While productivity resumed its climb, wages and compensation for workers went flat.
The second graph shows that after 1980 (and the advent of trickle-down economics) the top income earners did indeed receive most of the productivity gains, while the poor saw their income go down. But even so, the rich only saw gains of 55%, compared to 99% prior to 1980.
But that's not the biggest problem. In the third graph we see that when the gap between rich and poor is large, the economy suffers. This happens because the middle class is the driving force of a consumer economy. Spending for the rich is much more discretionary, so when the economy starts to go down, the rich stop spending, which causes the economy to get worse, and so on in a huge downward spiral.
In fact, the only reason our economy was able to keep growing even though middle class wages were flat after 1980 is because of two things: as the fourth graph shows, more women entered the workforce (the number of married women with young children who worked was 12% in the 60s, but soared to 55% by the late 90s); and as shown in the fifth graph, household debt climbed to unsustainable levels, peaking at 132% of annual income in 2007 (when the housing bubble crashed).
Since neither of those can increase much more, spending by the middle class can only go down, starving our economy of the fuel it needs to grow. There is only one solution — we need the rich to transfer some of their wealth to the middle class in order to fuel economic growth. Ironically, this will reward the rich far more than if they selfishly tried to hold onto their money.