Yesterday, I posted a video from the Daily Show talking about the Solyndra "scandal", but it is not at all clear that it is really a scandal at all as most of the scandalous aspects of the situation are actually lies.
For example, conservative media repeatedly claims that "a major Solyndra investor is also a big Obama donor" in order to make it look like corruption, but this is simply not true. The donor in question released a statement saying "George Kaiser is not an investor in Solyndra and did not participate in any discussions with the U.S. government regarding the loan."
Indeed, this loan actually originated under the Bush administration, so the idea that it was done to help an Obama campaign donor is silly.
Conservative media is also claiming that investment in green energy is a bad idea, but they ignore the fact that the main reason Solyndra went bankrupt was because its US-based manufacturing plant could not compete against solar panels manufactured in countries that are heavily subsidizing their green energy companies. In the last year, China alone gave $30 billion to six solar companies. Are conservatives saying that the US cannot compete anymore and we should just throw in the towel and give this new market to China?
I can't think of a single market that is more important to our national security than energy. High energy prices have had a devastating impact on our economy, and our dependence on fossil fuels pollutes our environment and has ignited wars that cost of trillions of dollars. Replacing this with green energy is absolutely critical to our future.
The conservatives say that funding green energy should be left to private investors, but in the past our country did not blink at investing trillions of dollars in building a national highway system that private investors would never have funded. Isn't ending our dependence on foreign oil at least as important as good roads?
One company going bankrupt does in no way indicate that investment in green energy is a bad idea. After all, our country funds lots of cancer research, and (by definition) some directions of research will not succeed. If our first attempt to cure cancer does not succeed, does that mean that fighting cancer is a bad idea? Of course not.
And finally, the idea that the loan guarantees to Solyndra are a complete loss because the company went bankrupt is ridiculous. Those guarantees allowed Solyndra to raise money, and that money was in turn invested in building a green energy manufacturing plant, develop a supply chain, and buy equipment from other companies. All of that money went back into the economy and will help future green energy investment. Solyndra itself will be sold, resulting in technology, research, equipment, and facilities that will be used by other companies.
Investment is inherently risky and that risk involves failure. If we really believe in the future of our country then we can not be afraid of risk, otherwise we doom ourselves to the certain failure of not even trying.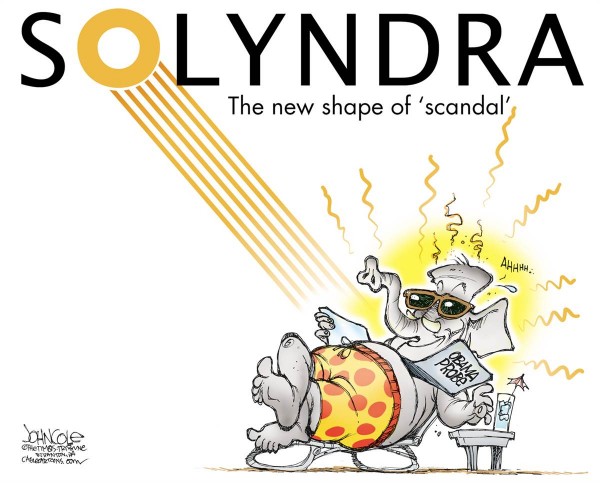 © John Cole