I don't want to celebrate the death of Muammar Gaddafi even though he was responsible for the Lockerbie bombing, one of the worst acts of terrorism (other than 9/11).
But I do want to point out something hypocritical.
When Obama decided to help out the Libyan rebels who were fighting Gaddafi, he was repeatedly criticized by the Republican presidential candidates. Mitt Romney said "It is apparent that our military is engaged in much more than enforcing a no-fly zone. What we are watching in real time is another example of mission creep and mission muddle." Michele Bachmann said "President Obama's policy of leading from behind is an outrage and people should be outraged at the foolishness of the President's decision." Herman Cain wrote "I've said many times before that US intervention in Libya is inappropriate and wrong. The US does not belong in this war."
But somehow Obama managed to help the rebels bring down a repressive dictatorship and advance the fight against terrorism, without getting us into a protracted war (like Bush did in both Afghanistan and Iraq). In fact, we didn't even send in any of our troops to Libya. Likewise, Obama managed to get Osama bin Laden, the perpetrator of 9/11, something that Dubya totally failed at.
So now that Obama has managed to strike back against two of the worst terrorists in our history, do you think the Republicans will give him some credit? And do you think the people claiming that Obama hasn't accomplished anything will change their tune?
UPDATE: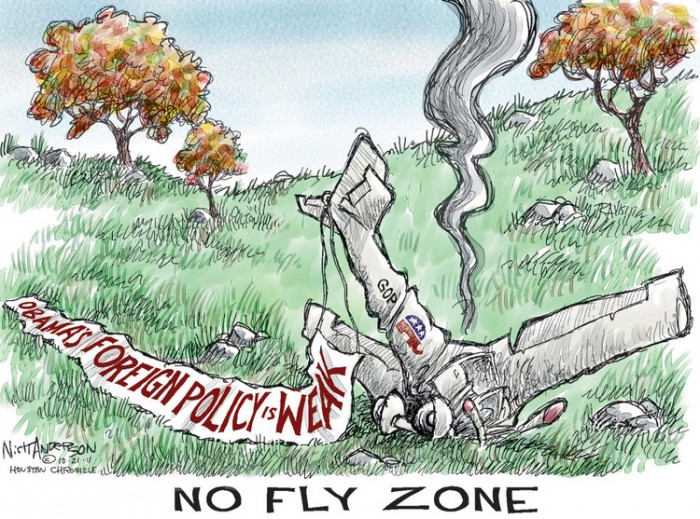 © Nick Anderson