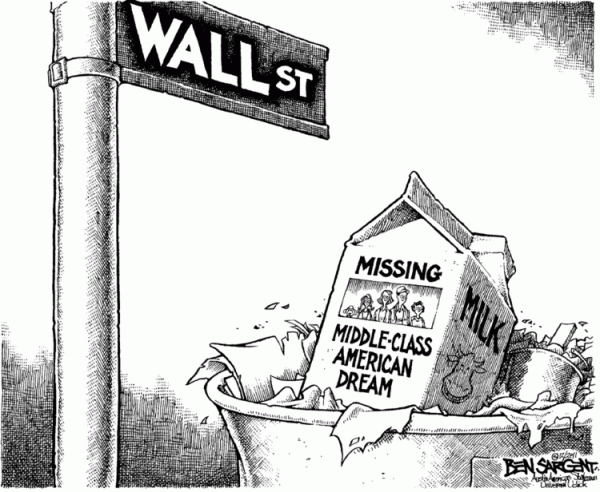 © Ben Sargent
The American dream is that anyone can become successful if they try, that you can leave your children with a better life than the one you have, that hard work is rewarded. It is what made our country great — the land of opportunity.
But now you are just supposed to work hard for your corporate masters. For what? So they can cut your pay or your job, while giving themselves obscene bonuses? So you can buy a house that will be worth less money than you paid for it? So you can build a nest egg for your retirement that will go up in smoke when the company you worked for goes bankrupt or the stock market tanks? So your life crumbles around you if you become seriously ill or disabled?
People complain about the young not working hard enough. Well, why the hell should they work hard? Talk about disincentives!
The American Dream has become a nightmare for most Americans. And the pundits and politicians play the blame game — it is all the fault of immigrants, or Muslims, or gays. They think they can give you a scapegoat so you don't look too closely at the real problems.