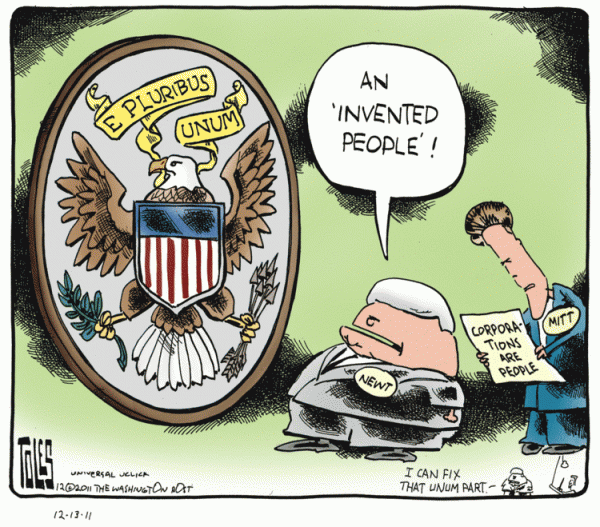 © Tom Toles
When Newt Gingrich called the Palestinians an "invented people" who had never had their own homeland I was flummoxed. After all, we "Americans" are an invented people, as are almost all modern Arab nations (with the exception of Egypt and Morocco). And while it may be technically true that no Arabs called themselves Palestinians until the breakup of the Ottoman Empire in 1920, the same thing was true of Syria, Lebanon, and even Iraq. When Israel was created at the end of WWII, there were plenty of people there who called themselves Palestinians.
But I really like the fact that this comic points out our most recent "invented people" — corporations.
The point is not whether Gingrich's inflammatory statement is technically true or not. The real question is why did he say it. What point is he trying to make? That Palestinians have no rights?
When the USA became a real country (and we became a suddenly non-invented people), it did it through bloody revolution against England. Is Gingrich saying that the same process is the only way for Palestinians to gain legitimacy as a people?