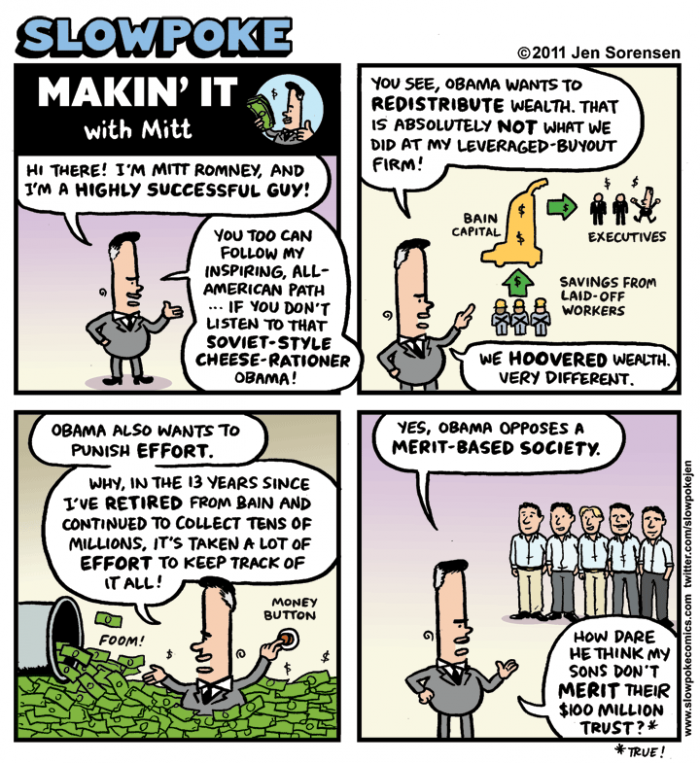 © Jen Sorensen
Mitt Romney keeps trying to paint Obama as a Soviet-style socialist, which is clearly false. Earlier this month, he declared:
[Obama] seeks to replace our merit-based society with an entitlement society. In an entitlement society, everyone receives the same or similar rewards, regardless of education, effort and willingness to take risk. That which is earned by some is redistributed to the others. And the only people to enjoy truly disproportionate rewards are the people who do the redistributing — the government.

Entitlement societies are praised in academic circles, far removed from the reality of a competitive world. Opportunity is replaced by the certainty that everyone in an entitlement society will enjoy nearly the same rewards. But there is another certainty: they will be poor.

In an entitlement society, the invigorating pursuit of happiness is replaced by the deadening reality that there is no prospect of a better tomorrow.
What makes this statement so hypocritical is that Romney claims that what he is trying to preserve opportunity and meritocracy, where education, effort, and willingness to take risk is rewarded. The reality is that Republicans have spent the last 30 years destroying opportunity and meritocracy and replacing it with an American aristocracy where the rich get their risks socialized. Where wages for the middle class have fallen even as corporate profits increased, and where the opportunity for someone poor to work hard and move themselves into the middle class has plummeted. The only entitlement society we actually have is corporate executives insisting they are entitled to their extravagant bonuses even as their companies fail and suck off the government teat.
Indeed, would Mitt be rich and running for president today if his father had not been George Romney, the CEO of American Motors and Governor of Michigan? It is interesting to note that neither American Motors nor the state of Michigan did very well at all in the end, but that didn't stop either Romney from benefiting greatly.