Glenn Greenwald has a fantastic rant in Salon. Go read it now.
It doesn't matter if you want Ron Paul to be president or not. You should definitely support him as It would be great for him to be the Republican candidate for president. Why? Because he is the only even remotely viable candidate for president (including Obama) who challenges the conventional political wisdom on some very important issues: ending preemptive wars, decriminalizing drug use, and many other issues that are extremely important but almost never part of our dismal political discourse. As Greenwald puts it: "[Paul's] nomination would mean that it is the Republican candidate — not the Democrat — who would be the anti-war, pro-due-process, pro-transparency, anti-Fed, anti-Wall-Street-bailout, anti-Drug-War advocate."
But the real irony fueling Greenwald's rant is the reaction that most progressives have to Ron Paul, because it challenges their denial about some of Obama's most repulsive policies (his support for CIA assassination, his unprecedented war on government whistleblowers, his shielding of Bush-era war criminals from prosecution, and others listed by Greenwald).
Let me be clear. I would definitely vote for Obama over Paul. But that does not mean that I support all of Obama's policies (in fact, I strongly dislike some of them). The real problem is that progressives are complicit in not talking about these bad policies, because they are afraid that the American electorate will vote in someone far worse.
We should not be afraid of open discussion. The us-vs-them attitude that pervades American politics is poison.
UPDATE: Maybe a comic will help make this point: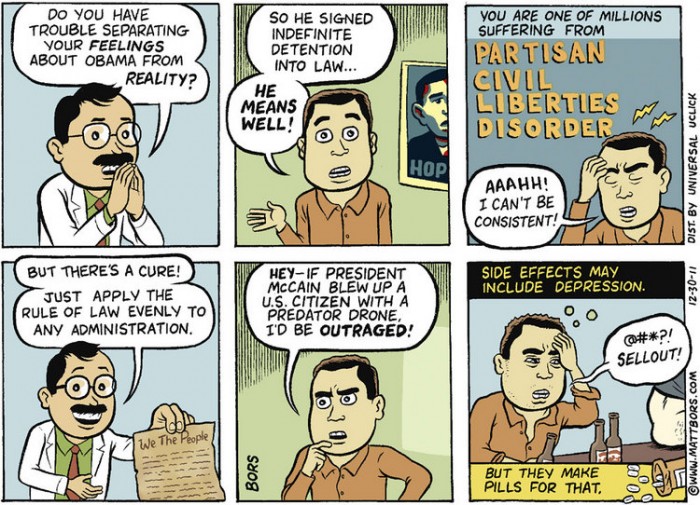 © Matt Bors