On Wednesday, several major internet sites are going on strike. So if you try to access Wikipedia, Reddit, Craigslist, The Oatmeal, Boing Boing, Mozilla, MoveOn, or hundreds of other sites, you may be out of luck. Some sites, including Google, ArsTechnica, TechCrunch, WordPress, and Wired, have a notice on their main page, but will allow users to click through to the real site.
What has the internet up in arms? Two bills in Congress — PIPA and SOPA — claim they are about protecting intellectual property rights, but they threaten to impose draconian censorship and legal requirements on web sites. Many people believe that if either of these bills become law, they could cause many legitimate websites to close because of the burdens involved. Indeed, I am not sure I could continue running this website if either of these bills pass.
Not only that, but the bills are so poorly written that they don't even accomplish the goal of protecting intellectual property.
We've seen this kind of thing in the past. Remember when the television industry tried to outlaw video recorders because they could be used to record copyrighted material? [By the way, the link in that last sentence goes to an article on Wikipedia, which will be blacked out on Wednesday. Sorry.]
But this post is not here to convince you that these two bills could destroy the internet as we know it. I just want to point out some irony.
The first is that the Congressman who wrote SOPA was found to be infringing copyright on his own website, making him guilty of violating his own (poorly written) law.
It is also interesting that the mainstream media (whose corporate owners are largely in favor of these two bills) was almost completely silent on these bills until the internet got up in arms. The goal was apparently to get them passed without anyone noticing. It didn't work.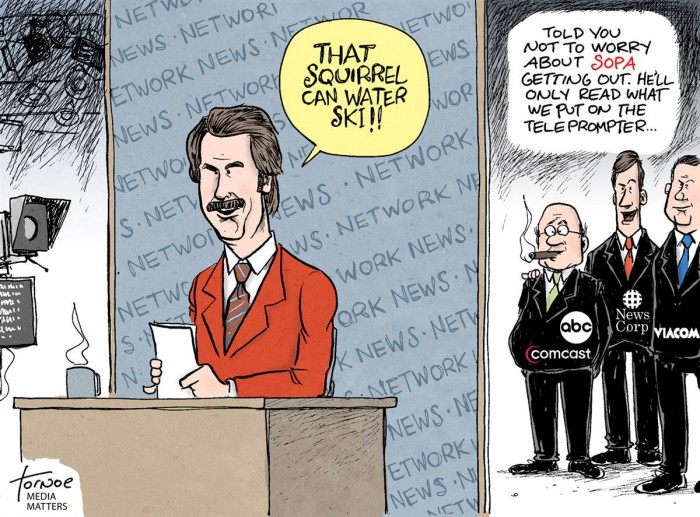 © Rob Tornoe
UPDATE: Book publisher Tim O'Reilly, who is one of the people bills like SOPA and PIPA are supposed to protect, has a good article on why he is against them.
UPDATE 2: The protest seems to be working — at least three Congresscritters who were co-sponsors of the bills have withdrawn their support. And here's an article listing the sites that have gone dark in protest.
UPDATE 3: One more irony — I keep hearing people say that copyright violations are theft. Just today, Senator John Cornyn (R-TX) said "Stealing content is theft, plain and simple." Actually, it is neither stealing nor theft, according to the Supreme Court.