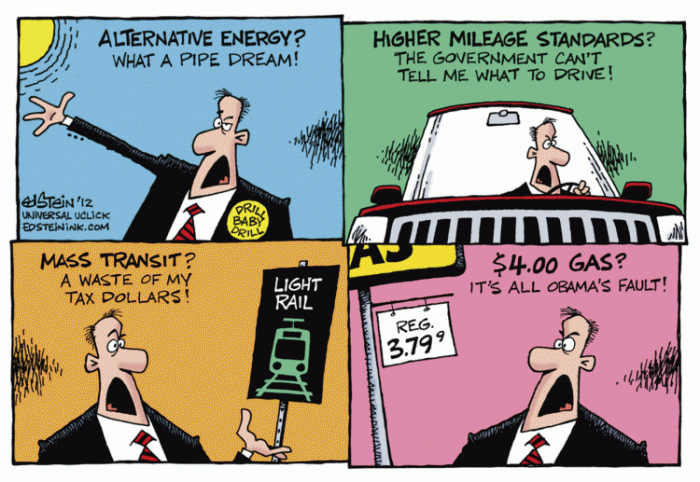 © Ed Stein
Predictably, Republicans are blaming Obama for high gas prices, while Democrats are saying there is little Obama can do. I'm of two minds on this. On one hand, high prices for gasoline seems to be the only thing that can get Americans to shake our dependence on foreign oil. On the other hand, there is no actual shortage of oil (yet) and demand is actually down. So it looks like rising prices are due to our old nemesis speculation.
And there is something our government could do about that — limit the amount of oil for which a single trader can hold contracts to 5%, instead of the current 25%. Allowing a single speculator to hold contracts on 25% of the total supply of oil is ridiculous. Senator Bill Nelson predicted last year that such a limit "is so high that it would encourage speculation and make markets more volatile." Well, duh.
One way to harness the energy of anger over oil prices is to let our representatives know that we want to put limits on speculative trading, which currently makes up half of all oil trades. Research has shown that a quarter of the price of oil is due to speculation. But with politicians dependent on super PACs who are funded by large donations from Wall Street, it is no surprise that oil prices are going up. Unless we make our voices heard over the din of corporate money, they will only continue to go up.