It is fascinating to watch how conservatives react to Obama's announcement that he is in favor of marriage equality for same-sex couples, and opposed to the Defense of Marriage Act (DOMA).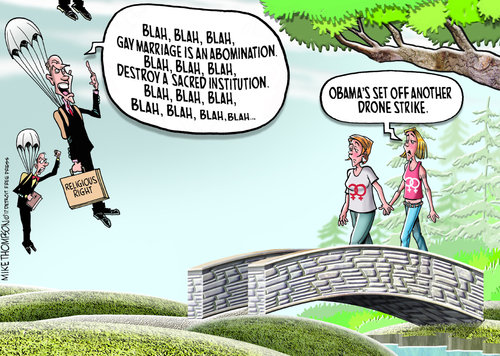 © Mike Thompson
Within hours, house Republicans passed a measure that prohibits the Justice department from using taxpayer funds to actively oppose DOMA. Which is pretty silly since the Justice department isn't actively opposing DOMA and has no plans to do so. They simply aren't enforcing it, which they can still do.
Then it got even sillier.
Speaking out against Obama and in support of "traditional marriage", we got a Facebook post from Bristol Palin, a teenage unwed mother.
Then Rush Limbaugh became incensed, and started accusing Obama of leading a war on traditional marriage. I guess he knows all about traditional marriage, since he has been married four times now.
The an advisor for Mitt Romney announced that president Romney would actively push for a constitutional amendment that would take away the right of states to voluntarily extend marriage equality to same-sex couples. How's that for limiting the power of the federal government? (Laws about marriage have always been left up to the individual states). Of course, Bush also actively supported such a constitutional amendment but it never went anywhere. I guess it is more useful to have the issue remain to use to activate the conservative base.
But who knows what Romney will do, since back in high school, he not only participated, but actually instigated an attack on boy that he thought was gay.
Finally, what makes this really ironic is that there is plenty of evidence that the Christian church supported gay marriage, even performing marriages between same-sex couples between the tenth and twelfth centuries. So when someone claims that marriage has always been between a man and a woman, they are just wrong.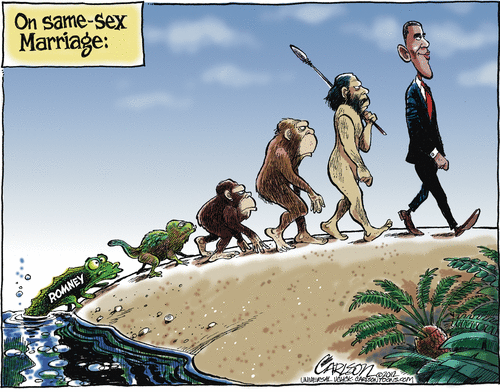 © Stuart Carlson