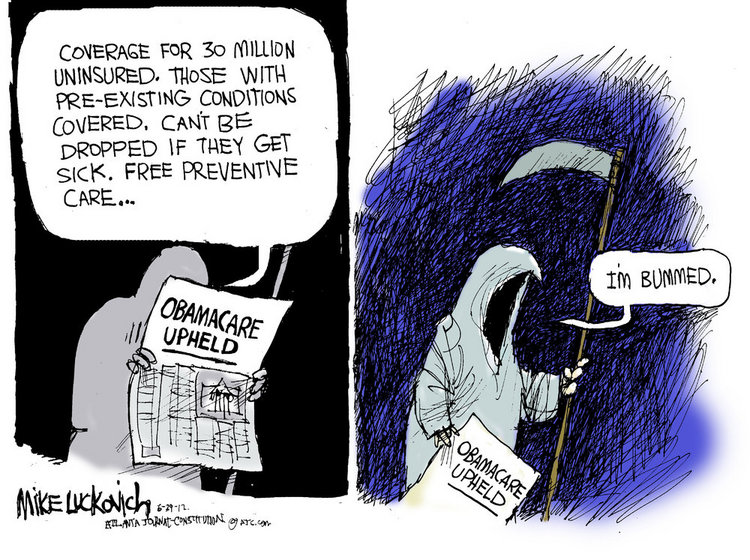 © Mike Luckovich
After the Supreme Court upheld the individual mandate, Romney repeated his plan to repeal ObamaCare and replace it with something else. Ironically, everything he proposed for his replacement plan were things that are already in ObamaCare. There's just one teeny thing he left out — the individual mandate!
Never mind that Romney himself proposed and championed the individual mandate in Massachusetts, saying:
No more 'free riding,' if you will, where an individual says: 'I'm not going to pay, even though I can afford it. I'm not going to get insurance, even though I can afford it.' It's the ultimate conservative idea, which is that people have responsibility for their own care, and they don't look to government to take care of them if they can afford to take care of themselves.
And now it is the one thing he doesn't like about ObamaCare.
Even more ironically, fiscally responsible businessman Mitt Romney is going to keep everything about ObamaCare except for the one thing that pays for it. And yet he claims that he is going to reduce the deficit. Will the American people fall for this snake-oil salesman?
UPDATE: Romney sometimes claims that the individual mandate was good at a state level, but he doesn't support it at the federal level. But he is lying. In 2009, Romney encouraged Obama to use the individual mandate as part of health insurance reform.