During the 2010 election, Republicans promised to not just repeal the Affordable Care Act (ObamaCare), but to replace it with with some fairly specific things: allowing insurance companies to sell health insurance across state lines (increasing competition), tort reform (reducing malpractice insurance costs for doctors), and expanding health savings accounts (shielding money spent on health care from taxes), ensure access to care for patients with pre-existing conditions, and permanently prohibit funding of abortions with taxpayer money.
It is instructive to consider that House Republicans have voted to repeal parts or all of ObamaCare more than 30 times in the year and a half since that election (including once again yesterday, to lots of fanfare, even though those votes are purely grandstanding because they have zero chance of passing the Democratic-controlled Senate). But they have done essentially nothing to pass any replacement measures. Republican leaders passed a resolution asking committees to draft a replacement bill for the ACA, but no bills have made it out of committee. And even if some of the proposals that are floating around (a abortion bill and a medical liability bill) did make it out for a vote, they are at best band-aids that would do little to solve our health care problems. And the proposed medical liability bill they are promoting also repeals Medicare's Independent Payment Advisory Board, which would increase health care costs.
So, does anyone believe that Republicans are serious about solving any of our health care problems? Or are they just continuing to be the party of NO.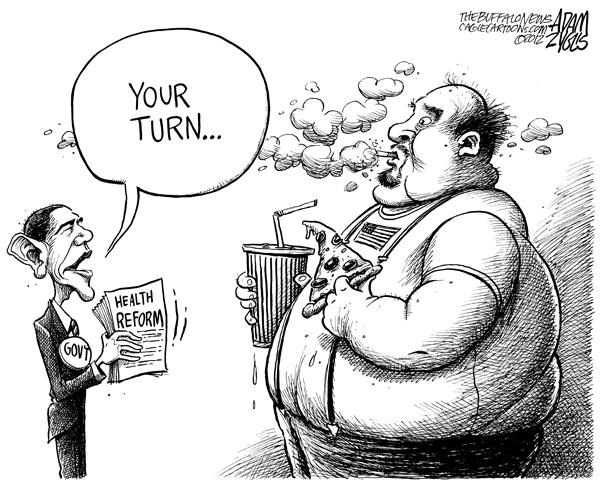 © Adam Zyglis