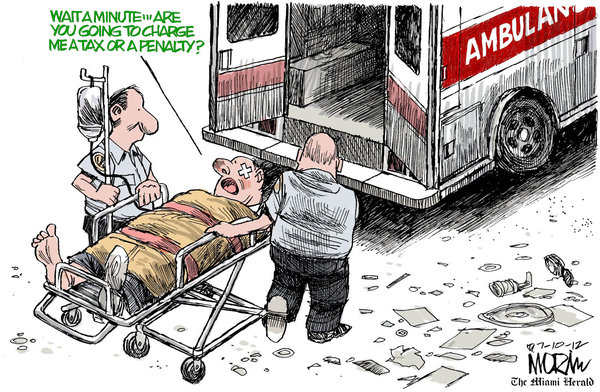 © Jim Morin
As I've said before, I don't think it matters whether the consequence of not having health insurance is a tax or a penalty.
I'm not sure there is much difference between taxes and penalties. We even have taxes that are specifically designed to be penalties, like taxes on cigarettes and liquor. After all, if you want to discourage something, then a good way to do that is to make it cost more.
In fact, I would love it if we treated all taxes as penalties. Stop taxing things that we should be encouraging, and start taxing all those things that we want to discourage. I would get rid of income taxes and sales taxes — why would we want to discourage people from earning money or buying things? Instead, we should have strong taxes on carbon use (to discourage contributing to global warming) and on pollution. We should also have a stiff tax on political contributions from corporations. After all, the average corporation has a big advantage over the average citizen when it comes to having money to spend on politics, so we should level the playing field.