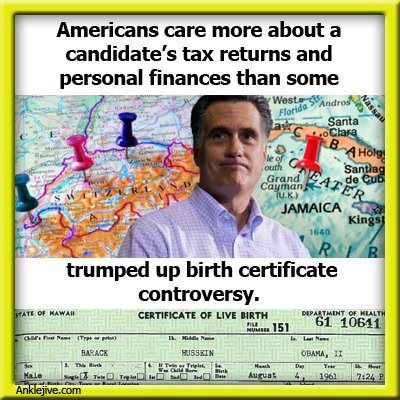 © Anklejive
Republicans kept hounding Obama to release his birth certificate, even after he had already released it. So I'm happy that at least a few Republicans are asking Mitt Romney to release his tax returns from before 2010:
"There is no whining in politics. Stop demanding an apology, release your tax returns." — John Weaver, a veteran Republican strategist
"His personal finances, the way he does things, his record, are fair game." — Congressman Pete Sessions, head of the National Republican Congressional Committee.
"I think he should release his financial records and I think if he does it in July it would be a lot better than in October. Whenever you are asking for the vote of the American people that you need to fully disclose what your holdings are, if you have any." — Congressman Walter Jones (R-NC).
"If you have things to hide, then maybe you're doing things wrong. I think you ought to be willing to release everything to the American people." — Alabama Gov. Robert Bentley (R), who is now trying to walk back those comments
But Romney has refused to release anything more, saying "that's all that's necessary for people to understand something about my finances."
Why won't Mitt Romney release his tax returns? Even his father George Romney released twelve years of tax returns when he ran for president in 1968, saying "One year could be a fluke, perhaps done for show."
Mitt Romney's refusal would make him the first presidential candidate — Republican or Democrat — since the early 1980s who hasn't released his earlier tax returns.
And it isn't like he doesn't have them. Romney provided John McCain 23 years worth of returns when he was being vetted as McCain's potential VP choice. Did McCain pick Sarah Palin after seeing Romney's returns?
Is Romney afraid to release his returns, because they would contradict his claims about when he left Bain Capital? Is he afraid that people wouldn't like the fact that he would be the first president in our nation's history with millions of dollars stashed in offshore tax havens? Without the real information, we can only speculate.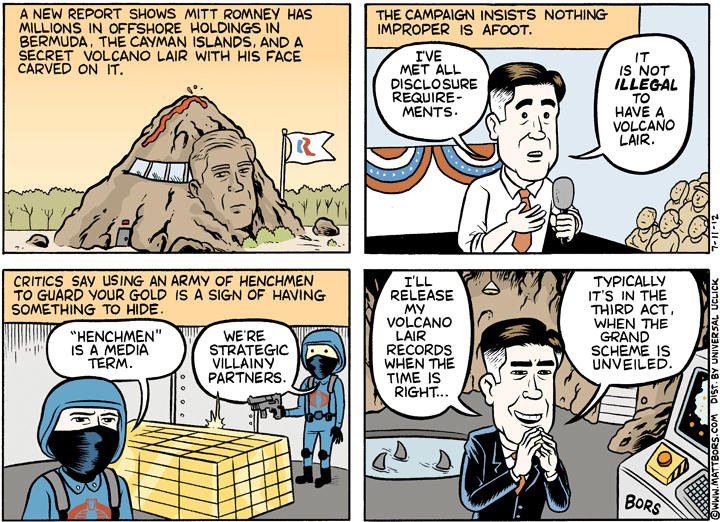 © Matt Bors