As if it weren't bad enough that Republicans were deliberately blocking bills that would help the economy, in order to win elections. We almost expect that of them.
But this is the height of cynicism and hypocrisy.
Ohio's Senate race is neck-and-neck, with progressive Sherrod Brown pitted against Republican Josh Mandel. Mandel vocally opposed raising the debt ceiling last year, and has indicated that he would vote against it if elected to the Senate. If the government is not able to meet it's financial obligations it will cause a default and likely financial chaos.
But Mandel won't feel the pain. Both he and his wife have invested in financial instruments that "short" US Treasury bills. If the government defaults, the value of Treasury bills would go down dramatically, and this investment — which bets against Treasury bills — would shoot up in value.
Seriously. Not only is Mandel voting against the US economy, he's betting against it.
Should we be surprised? Last year, it was discovered that Eric Cantor — the Republican's chief debt ceiling negotiator — had an investment in the same financial instruments.
This may be the ultimate in cynical insider trading, but despite a new law that explicitly bans members of Congress from insider trading, that law only applies to trading using confidential information they receive as lawmakers. In addition, that law was weakened by Republicans before it was passed, and according to the New York Times "prosecutions would still be difficult". For now, the best way to stop politicians who bet against the country they are sworn to protect is to vote them out of office.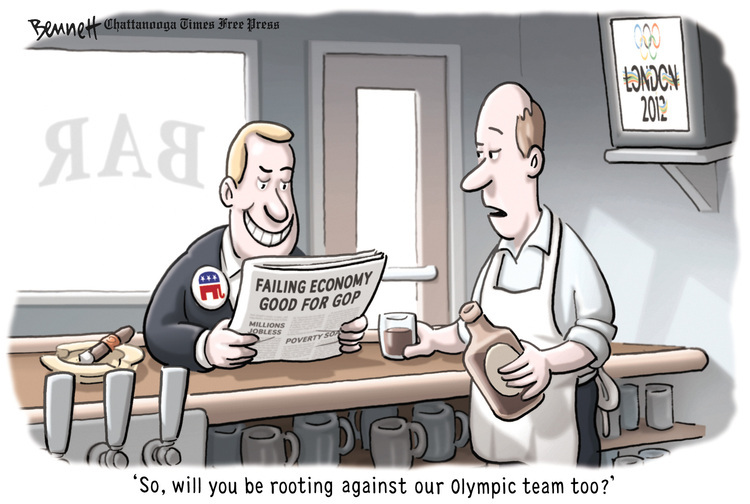 © Clay Bennett