So, why is it that Romney is so adamant about not releasing his tax returns? He doesn't seem like the kind of guy who is embarrassed about being rich. So it seems safe to assume that he is deliberately hiding something.
One theory concerns the fact that back in 2009, the IRS did a massive crackdown on the use of overseas bank accounts as tax havens and offered amnesty to anyone who disclosed those accounts. This happened when Switzerland's largest bank was forced to reveal the names of its US account holders. The theory is that Romney took advantage of that amnesty, which means that if he revealed his tax returns, they would reveal that Romney was — at the time — illegally avoiding taxes. Even though the IRS granted amnesty, the US taxpaying voters might not be so kind.
Indeed, even though Romney claims to have released his 2010 tax returns, even then he didn't include all of his tax forms. Specifically, he didn't include the forms documenting his Swiss bank account (and his financial activities in Bermuda and the Cayman Islands).
So we really have no idea why Romney had a Swiss bank account. Was it to avoid paying taxes? Was it to avoid disclosing investments that would embarrass him? Unless he shows us this form, we may never know.
For their part, the Romney campaign has explicitly said that the Swiss account that we do know about was not part of the IRS amnesty program, but that doesn't mean much, since there could have been other Swiss accounts that we don't yet know about.
For a good summary, The Atlantic has a fun article that goes through the various theories as to why Romney will not release his tax returns, offering evidence both for and against each theory. Not surprisingly, all of them are good reasons for Romney to want to avoid releasing further tax information.
I'm surprised that nobody has speculated that the Romney campaign is deliberately laying a trap. Get the Democrats to focus on Romney's tax returns until speculation goes completely overboard. For example, by having someone tell Harry Reid that Romney paid no taxes for 10 years. Then, when Romney is finally "forced" to reveal his returns, there is nothing in them that is even half as damaging as what Democrats claimed, and the whole thing blows over. Maybe some of the stuff in the tax returns is damaging, but a good way to mitigate that damage would be to entice the Democrats to overplay their hand.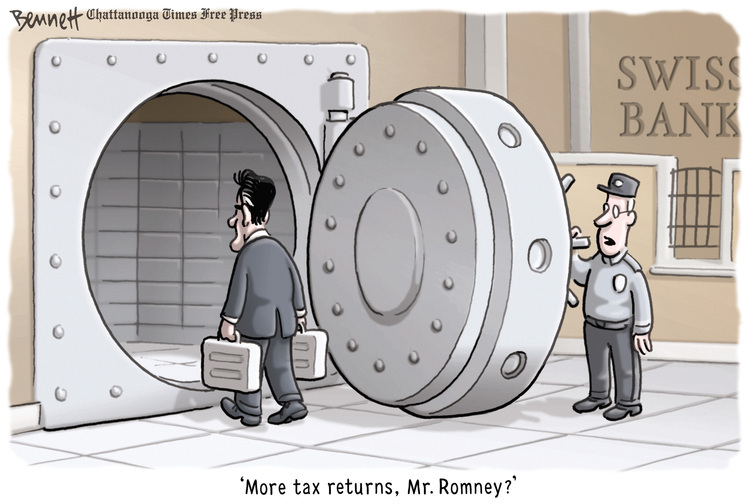 © Clay Bennett
UPDATE: More clues as to what might be in Romney's Returns.