I don't believe it for a moment, but you do have to ask the question…
Four years ago, James Dobson and Focus On the Family actually ran an ad calling for people to pray to God to rain out Barack Obama's speech at the Democratic National Convention in Denver. I don't know how many people prayed, but it didn't work. In fact, the weather was fantastic, with nary a cloud in the sky.
Ironically, four days later, the Republican National Convention was nearly cancelled due to Hurricane Gustav.
But Republicans continue to equate bad weather and other disasters with divine retribution. Glenn Beck said the Japanese earthquake and tsunami were a "message being sent" by God. Last year, Michele Bachmann said that an earthquake in Virginia and hurricane Irene were attempts by God "to get the attention of the politicians". Pat Robertson blamed the earthquake in Haiti on that country's "pact with the devil", and said that Hurricane Katrina was God's punishment for abortion. Jerry Falwell even said that God allowed the 9/11 attacks as retribution for feminists and the ACLU.
So what are Republicans going to say about the fact that next week's Republican National Convention in Tampa, Florida is also being threatened by a hurricane? Currently a tropical storm, Isaac — whose name was taken from the Bible and literally means "he will laugh" — is expected to gain strength and become a hurricane on Thursday. The projected path takes it right to Tampa on Monday, just as the convention starts.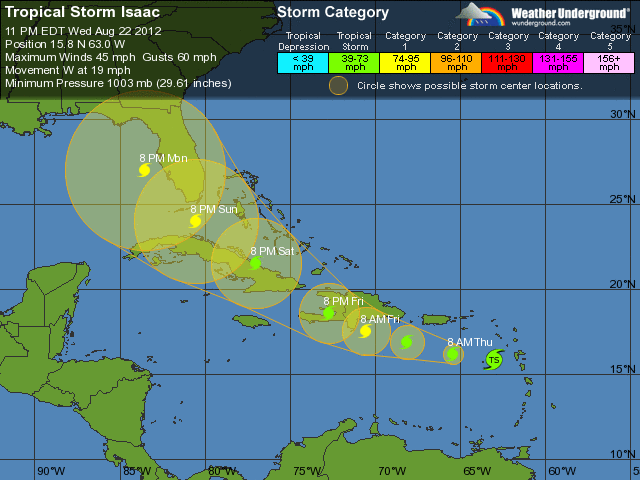 © Weather Underground
The mayor of Tampa has said that he is prepared to call the convention off if necessary. Of course, hurricane predictions are often wrong, especially five days out. But I still find it hilarious that ever since Dobson prayed for rain on the Democrats, the Republicans have received nothing but.
Ironically, RNC Host Committee CEO Ken Jones said that he's not worried, and that if a storm arrives during the RNC, the responsibility to get everyone out safely will fall to the Federal Emergency Management Agency (FEMA). Does someone need to remind him that government is not the solution?
UPDATE: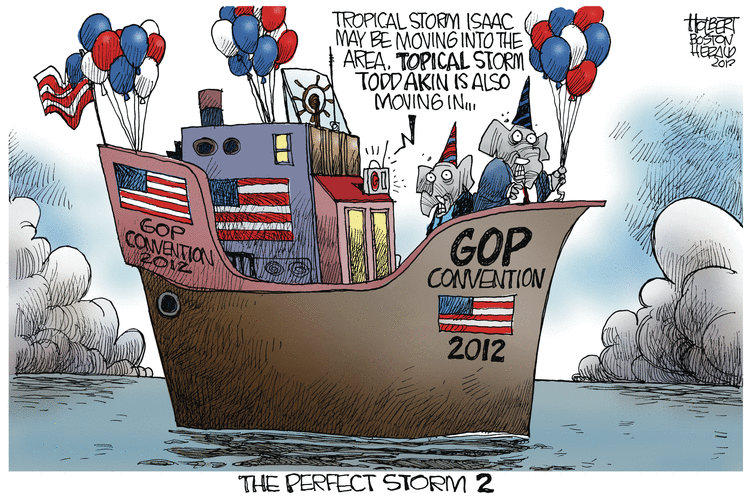 © Jerry Holbert