We are starting to learn more about the (so-called) film that caused all the fuss in Islamic countries. I say so-called, because it seems to be impossible to actually see the film. Most people haven't even watched the 14 minute trailer (and for good reason).
It turns out that the actors who were hired to make the film had no idea they were making an anti-Islam movie. They were told they were making an "Arabian desert adventure movie" starring someone named George who is a "warrior leader". In fact, most of the attacks against Islam were dubbed over in post-production, and you can clearly tell the actor's voice changes. Needless to say, the actors involved are very upset and feel taken advantage of by the producer.
And just who made this film? Early reports said it was an Israeli named "Sam Bacile" but there doesn't seem to be anyone by that name. Instead, it appears to have been made by an Egyptian Christian living in Los Angeles, who is on probation for bank fraud.
The spokesperson for the film is Steve Klein, who is associated with two hate groups. He's also an insurance agent who was the American Independent Party's candidate for California state insurance commissioner, but received only 2% of the vote.
But what's really ironic is that in addition to spewing hate against Muslims, Klein also runs a website mornmoninfo.org that is anti-Mormon. The main part of the site seems to be claiming that Mormons are not Christians. This could become very ironic, because Mitt Romney defended the anti-Muslim film based on the principle of free speech. Would he defend an anti-Mormon website on the same grounds?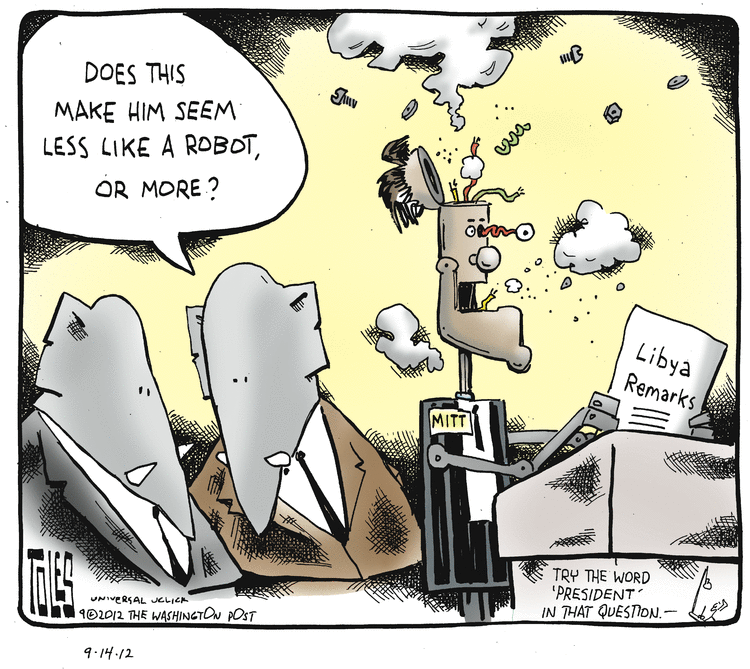 © Tom Toles