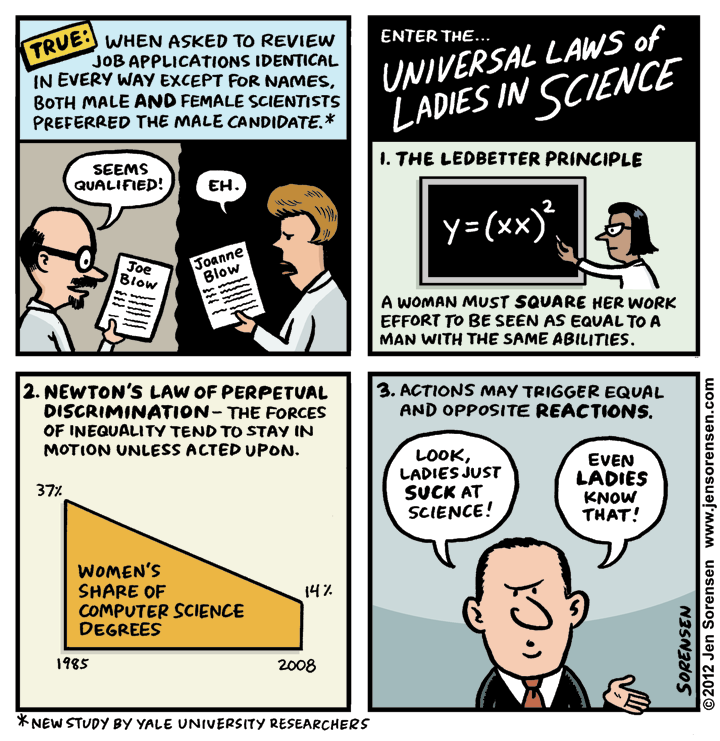 © Jen Sorensen
It is true. After some early success in recruiting women into the field of computer science, the number of women receiving CS degrees has been going down dramatically since then — despite the fact that there is strong demand for computer workers regardless of sex.
The study mentioned in the first panel of this comic is particularly stunning. Even highly educated scientists showed blatant discrimination against female students when considering them for a job. Given applications that were identical except for the name of the student, the applicants with a male name were evaluated as being more competent, more likely to be hired, and deserving of a higher salary. Even more ironic is that this was true whether the evaluating scientist was male or female.
Sexism runs very deep. But I'm not sure what can be done about it. You would think that intelligent and well educated scientists would be less likely to be sexist than the general population, but the sexism remains. And unlike other discrimination — such as against blacks or gays — it isn't based on fear. Attitudes about gays are improving because the general population is getting used to seeing gays as normal, productive members of society (as opposed to scary deviants). But everyone sees women in these roles, and yet the sexism remains.
As Jen Sorensen — the creator of the above comic — notes:
Even I still catch myself thinking of a stereotypical doctor as a guy with a stethoscope, despite the fact that I've had female doctors for my entire adult life. It's harder to get rid of these biases than we think.