Florida's Republican Secretary of State Rick Detzner cut the number of early voting days from 14 to 8, in a fairly blatant attempt to reduce turnout for Democrats. Former Republican governor Charlie Crist said "the only thing that makes any sense as to why this is happening and being done is voter suppression." Even former Republican governor Jeb Bush extended early voting hours to accommodate large turnouts, but current Republican governor Rick Scott refused.
But it backfired. People took this as a challenge and turned out just to show that they wouldn't let someone take their voice away.
The result? Many people stood in line to vote for up to six hours. Others tried to vote early twice, but had to abandon both attempts due to long lines, only to wait in line another three hours on election day. People persisted, despite what could be a significant hardship for them.
So when CNN asked Detzner if he regretted doing that, how did he respond? He said "Frankly, I think the turnout is a good representation of the fact that people liked the voting hours."
What a jerk.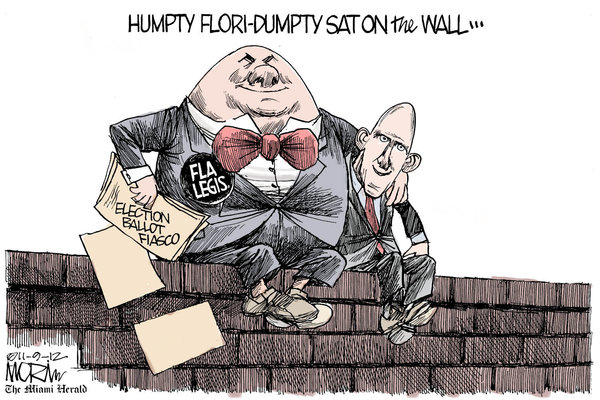 © Jim Morin