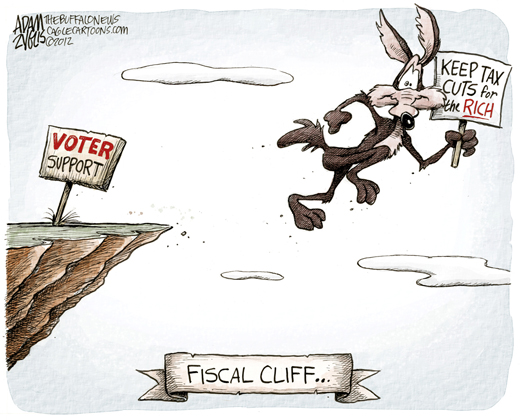 © Adam Zyglis
I'm a huge fan of roadrunner cartoons, and love that moment when Wile E. Coyote realizes that he is not standing on anything and plummets back to earth.
Isn't that exactly the situation the GOP is facing now? Everyone is talking about the fiscal cliff that is coming up. But they don't often mention that the reason we face a fiscal cliff is because Republicans are holding our government hostage, refusing to even consider allowing Bush's tax cuts on the rich to expire. They claim that raising taxes on the rich would slow down the economy and hurt job creation. However, the non-partisan Congressional Budget Office says that allowing the Bush tax cuts on the rich to expire would increase GDP by 1.3% and create 1.6 million jobs, and would also lower the deficit. In fact, holding the government budget hostage is what is damaging to our economy, so it is clear that the GOP is not actually concerned about that, and in fact may be purposely trying to damage the economy in order to blame it on Obama. Making this even more ironic is that exit polls during the election say that only one-third of voters think that taxes should not be raised. And if the government is forced to shut down, voters say they are more likely to blame it on the Republicans.
So you have a situation where the GOP is willing to do something that hurts our country, will cost them votes, and is based on blatant lies, just to give huge financial gifts to the rich. Are they really that beholden to the 1%? Now that they were repudiated in the election, you would think that they had learned their lesson. We'll see how this plays out.
It also doesn't help when the media uses false equivalency to make it sound like both sides are unwilling to compromise, as if there are actually two sides to this issue. Even dumb jokes, like Jay Leno saying "the Democrats are driving us over a cliff" (in the previous post) are extremely annoying to me.