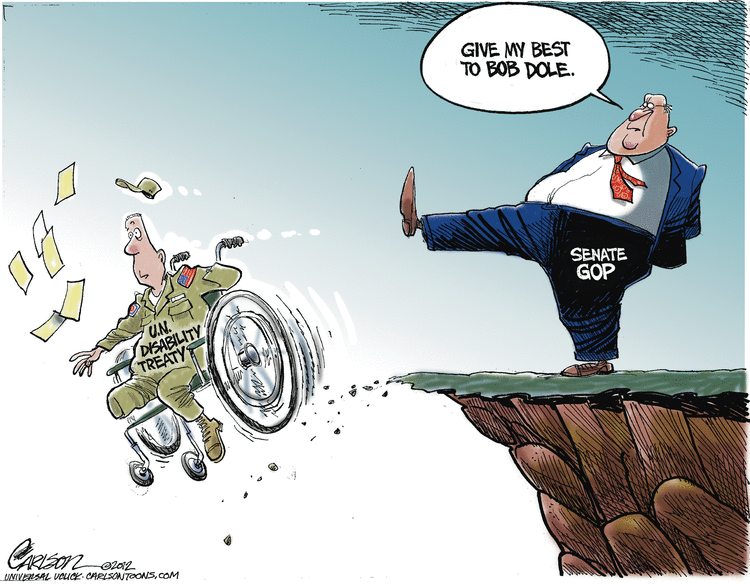 © Stuart Carlson
Former Senate Republican Leader Bob Dole came to the Senate floor in a wheelchair last Tuesday to make a personal appeal for lawmakers to ratify a UN treaty to protect the rights of the disabled. Even Senator Richard Lugar (R-IN) said that veterans he had visited "expressed without reservation that their lives would be advanced in the event that we are able to pass this treaty because their treatment in other countries would improve as other countries adopt principles that we have found useful, a practical means of helping the disabled."
Ratification of the treaty would not impose any new regulations on the US. In fact, the treaty was largely based on the Americans with Disability Act (ADA) that was signed into law by George H. W. Bush in 1990.
And ratifying the treaty would be good for US businesses. Even the US Chamber of Commerce likes the treaty, even though they opposed the original ADA, because it would put US companies on an even footing with foreign companies, and thus improve our competitiveness.
But no matter, because after Dole was wheeled out of the chamber — and even with every Democrat voting yes — only 8 Republicans voted for ratification (in addition to Lugar, John McCain, Susan Collins, Olympia Snowe, Scott Brown, Lisa Murkowski, and Kelly Ayotte voted in favor). Treaties require a two-thirds vote so it was defeated by the remaining 38 GOP senators voting no.
We should remind them of this the next time they claim they are supporting our troops, or that they are pro-business. Or the next time Republicans wonder why the opinion of the US around the world took a nose dive when they were in power.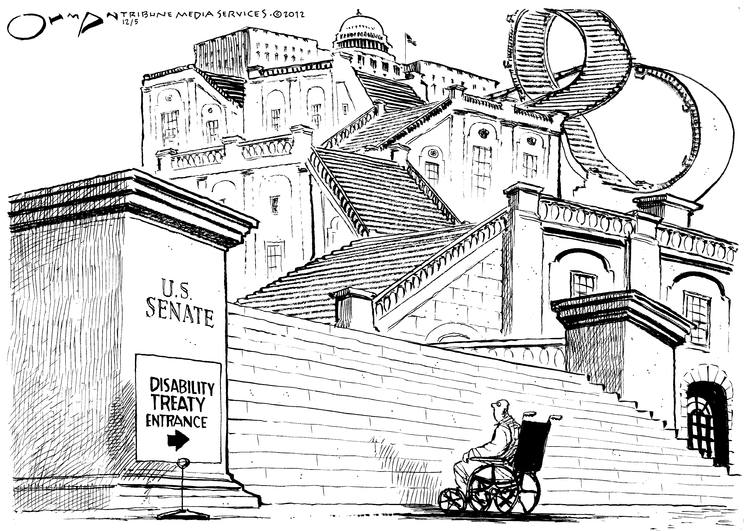 © Jack Ohman