Paul Krugman on the Fiscal Cliff deal:
The centrist fantasy of a Grand Bargain on the budget never had a chance. Even if some kind of bargain had supposedly been reached, key players would soon have reneged on the deal — probably the next time a Republican occupied the White House.

For the reality is that our two major political parties are engaged in a fierce struggle over the future shape of American society. Democrats want to preserve the legacy of the New Deal and the Great Society — Social Security, Medicare and Medicaid — and add to them what every other advanced country has: a more or less universal guarantee of essential health care. Republicans want to roll all of that back, making room for drastically lower taxes on the wealthy. Yes, it's essentially a class war.
Krugman argues, and I'm tending to agree with him, that the Fiscal Cliff deal was a victory for Democrats and Obama. After all, we actually saw Republicans vote for a tax increase on the rich! However, he worries (and we should too) that this victory may be setting the stage for a larger defeat in just a few weeks when it comes time to raise the debt limit again:
the G.O.P. retains the power to destroy, in particular by refusing to raise the debt limit — which could cause a financial crisis. And Republicans have made it clear that they plan to use their destructive power to extract major policy concessions.

Now, the president has said that he won't negotiate on that basis, and rightly so. Threatening to hurt tens of millions of innocent victims unless you get your way — which is what the G.O.P. strategy boils down to — shouldn't be treated as a legitimate political tactic.
I think this comes down to us. I realize that many people are worn out from the recent election, but if we can put enough pressure on Republicans maybe they won't be so eager to resort to terrorist-like tactics.
UPDATE: Indeed, in the first closed-door meeting of Republicans in the new congress, Speaker John Boehner promised to fight Obama, doubling down on his threat to hold the nation hostage over raising the debt ceiling. "Without lifting the debt limit, the federal government would face a cataclysmic default on its already accrued obligations" — obligations such as two wars and Medicare Part D, which Republicans voted for while simultaneously cutting taxes.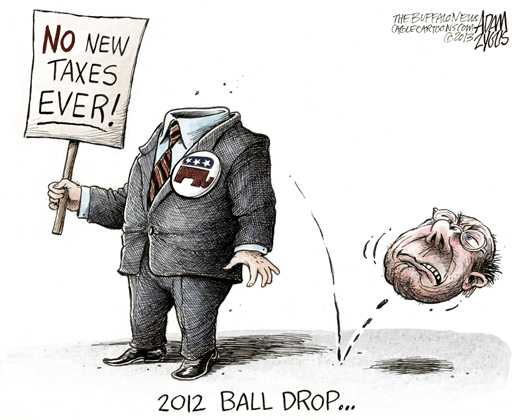 © Adam Zyglis