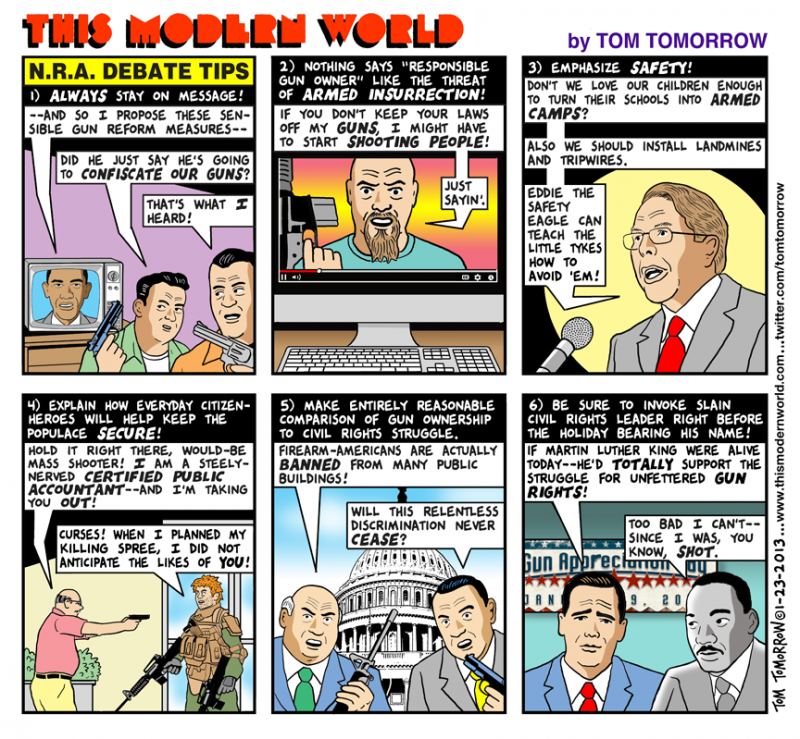 © Tom Tomorrow
And you don't have to:
Yes, the guy in the second panel really exists and really did say he would start shooting people if any more gun control laws are enacted. Some random loony? No, he's a former police chief, and owner of two companies that provide tactical weapons and training to police and military units. And there are plenty of other people saying similar crazy things.
And the guy in the last panel is none other than Larry Ward, the instigator of Gun Appreciation Day, who really did try to use Martin Luther King Jr., a staunch promoter of non-violent protest who was himself assassinated by a gun, as a symbol for his gun rally. This is based on the fact that King once applied for a hidden carry permit, but was turned down. What Ward doesn't mention is that King later said he was glad he was denied and would never carry a gun again.
And if all that weren't crazy enough, there are conspiracy theorists who think that the whole Sandy Hook massacre was staged in order to take away our guns.