They say politics makes strange bedfellows, and there are few examples more hypocritical than what's going on with the US postal service.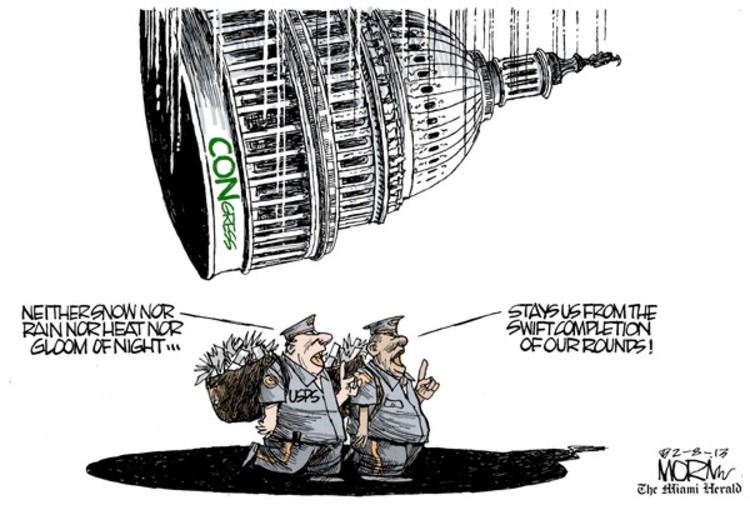 © Jim Morin
Conservative Republicans pretend to be strict constitutionalists on issues like freedom of religion and the right to bear arms. Yet they completely ignore the fact that the Post Office is written directly into the constitution. Instead, they want to kill it, constitution be damned. Republican dogma hates the Post Office, a quasi-governmental operation full of unionized employees that competes with private sector companies like FedEx and UPS.
Conservative dogma says that government can't do anything as well as the private sector ("government is not the solution, government is the problem"), and by golly, they are going to prove that any way they can.
Conservative Republicans say they want government to be run more like a business, but in 2006 the GOP-controlled congress passed a law requiring the post office to fully fund future health benefits for retirees for the next 75 years. No private business would (or perhaps even could) do that — it would bankrupt them! Indeed, it certainly appears that the Republicans were purposely trying to bankrupt the Post Office.
Furthermore, even though the Post Office gets no funding from the US government at all, it cannot set its own prices. Just changing the cost of a stamp requires a proverbial act of Congress. Private companies don't deliver on Saturday or they charge extra for that service, but the Post Office is required to do it for free.
But one of the most ironic things is that while Conservative Republicans often sing the praises of rural America, it is rural America that is most hurt by efforts to kill the post office. The private companies that Republicans are defending against the Postal Service primarily serve urban customers. If Republicans succeeded in killing the Post Office, it would hurt rural country folk the most. No private business would ever deliver mail to rural areas, because it is far too expensive.
And finally Republicans claim to be all about jobs, but they don't seem to care about the quarter of a million middle-class Americans who earn their living delivering the mail, even though the government doesn't pay their salary so it does not increase the deficit nor cost taxpayers one penny.
I've lived in plenty of other countries, and I have to say that our Postal Service is actually pretty darn good. Relatively fast, cheap, and reliable. Why do Republicans hate it so much?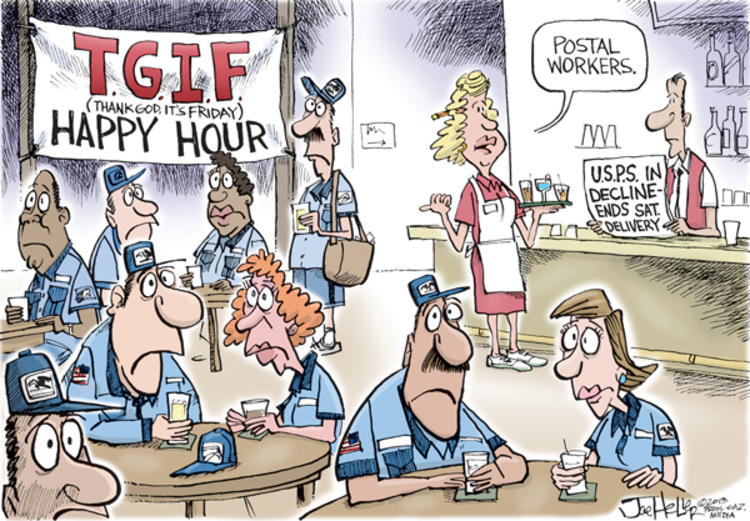 © Joe Heller