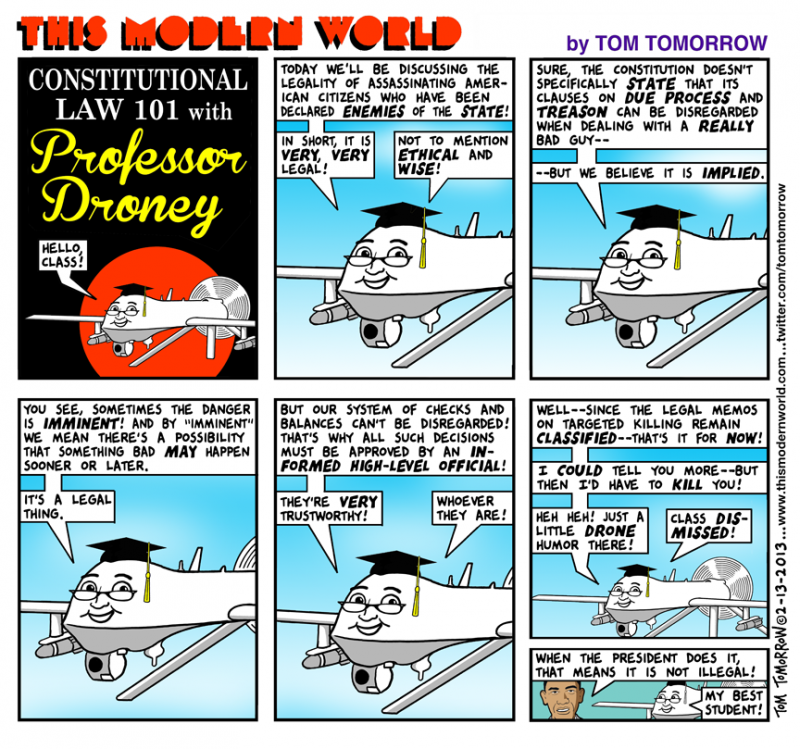 © Tom Tomorrow
Don't get me wrong, I'm not at all happy with all the drone attacks being done in our name. But I think the left is barking up the wrong tree calling this a violation of the constitution. The constitution specifically gives the president the power to conduct wars, and whether we like it or not people do get killed during wars. Mostly without any due process or constitutional rights whatsoever. And (more or less) innocent bystanders also get killed. War sucks.
But it is up to Congress to both declare these wars and to fund them. So I think this issue boils down to whether you think the war on terror is an actual war or not. Unfortunately, Congress and a lot of Americans certainly think it is a war and want the president to kill the terrorists. So much so that they got us into an absolutely stupid war in Iraq. Did we learn anything from that? If anything, we learned that instead of sending our sons (and now daughters) to war, that we would be way happier to have unmanned drones doing the killing. And we told the president to do just that.
Personally, I think we as a country completely overreacted to 9/11. We essentially gave the terrorists a huge victory, doing more damage to ourselves than the terrorists could ever have done themselves. Sadly, it was a brilliant ploy and we fell for it.
Will we ever have a reasoned discussion about what we should do about terrorists? I doubt it. But getting mad at Obama for doing exactly what we told him to do is pathetic. And complaining that it is unconstitutional seems to be completely oblivious to the realities of war.