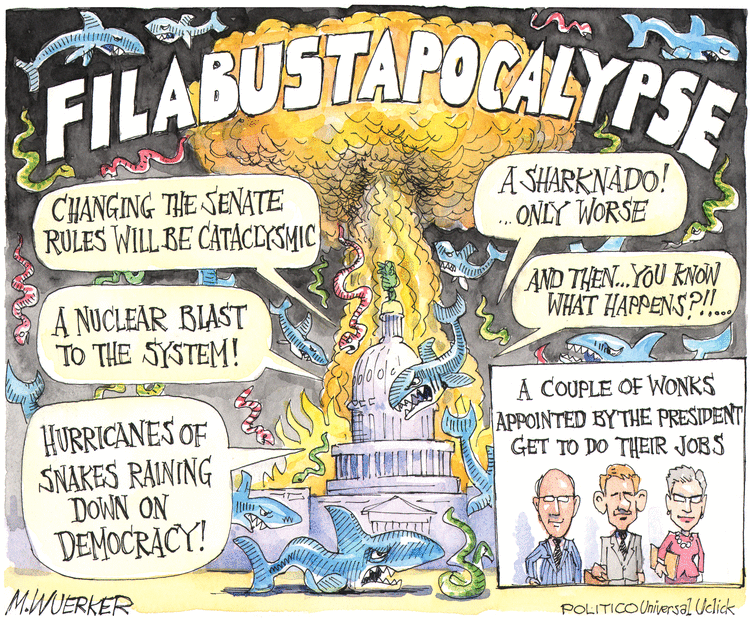 © Matt Wuerker
The New Yorker makes an interesting point about filibuster reform. Filibusters in the Senate are used to block three things: judicial nominees (like to the Supreme Court), ordinary legislation, and administration appointees (like Cabinet members and heads of agencies).
Using the filibuster to block the nomination of judges (especially Supreme Court justices) make the most sense. After all, they are appointed for life. And the Judiciary is the third branch of our government, so of course the Executive and Legislative branches should both have a significant say in who is appointed to them.
Using the filibuster to block ordinary legislation makes slightly less sense. After all, a future Congress can change any law it doesn't like. This kind of filibuster was originally designed so that the majority could not trample on the rights of a minority. But the excessive use of filibusters now means that a minority is regularly trampling on the rights of the majority. Even worse, it is being used for craven political purposes — to bring Congress to a standstill so the party in power looks bad, even though it is the party out of power that is blocking everything using the filibuster.
Finally, the filibuster to block administration appointees makes almost no sense at all. After all, these appointments serve only during the current administration and automatically end when the presidency changes hands. Presidents are elected, so they should be able to appoint like minded officials to their administration's posts. It makes no sense that the Senate can block (sometimes for years) hiring decisions of the president for pretty much no reason at all. There is no basis for this kind of filibuster in the constitution, and its only purpose seems to be to allow a minority to hobble the president's administration for political reasons.
I think we definitely need filibuster reform. For example, we could keep filibusters of judicial nominees essentially as they currently exist. As for filibusters of legislation, we could require that they be real filibusters — with Senators standing at the podium and speechifying for hours — rather than just allowing the threat of a filibuster to block a law. And finally, I think we should either eliminate the filibuster of executive appointments, or at least severely restrict them. As they currently exist, they just serve to throw a monkey-wrench into our government for no good reason.
Finally, it is interesting to note that back when the Republicans threatened to invoke the nuclear option eight years ago, it was because Democrats were filibustering appointments to the judiciary (when Bush was attempting to stack the appeals courts with blatant partisans), which is the kind of filibuster most supported by the constitution. But when the Democrats just threatened a "nuclear option" this week, it was because the Republicans were filibustering administration appointments, some of whom were blocked for years for no reason other than to obstruct the government.