Our obsession with guns has run up against our desire to be tough on crime, resulting in laws that are beyond ironic. According to an article in the LA Times:
Self-defense laws reward shooters with permission to kill if they can prove they're acting out of fear for their lives. At the same time, minimum sentencing laws mandate harsh punishments for those whose fear is judged to fall short of that threshold – regardless of context or motivation.
That's how George Zimmerman walks free after shooting and killing Trayvon Martin in self defense (even though Martin was unarmed). Meanwhile, also in Florida, Marissa Alexander, a mother of three, was sentenced to 20 years in prison for firing a "warning shot" into a wall in her home during an argument with her estranged husband. Alexander had a restraining order against him because of previous abuse, and during the argument he threatened to kill her.
But Alexander left the scene of the argument to go into the garage to retrieve her gun, so her "stand your ground" defense was denied. Apparently "stand your ground" doesn't apply when you are protecting your home, only when you are afraid for your life. Since she walked back to the kitchen with her gun (instead of leaving her home), she became the aggressor. And Florida law requires a minimum sentence of 20 years if a gun is fired during an aggravated assault.
As one expert put it, "Florida's gun laws are schizophrenic."
Even though Zimmerman is white and Alexander is black, I don't believe the big problem here is racial. The main problem is crazy laws where what someone is thinking can make the difference between them receiving a very harsh punishment and no punishment at all.
There is a racial problem – that white people feel threatened by blacks, which also means that it is easy for a court to believe that a white person felt afraid for their life. I don't want to downplay the racial problem. It is a huge issue, but it wouldn't be solved by convicting Zimmerman. Zimmerman is a symptom.
By the way, if you don't think we have a huge racial problem, read this.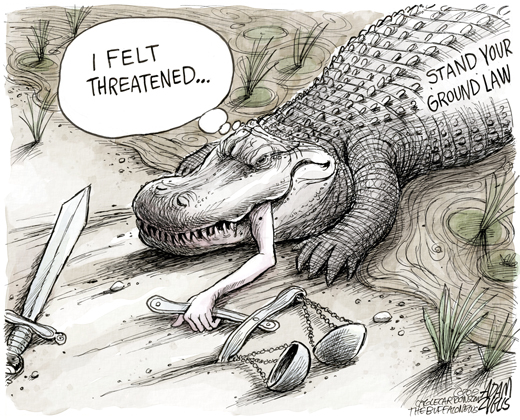 © Adam Zyglis