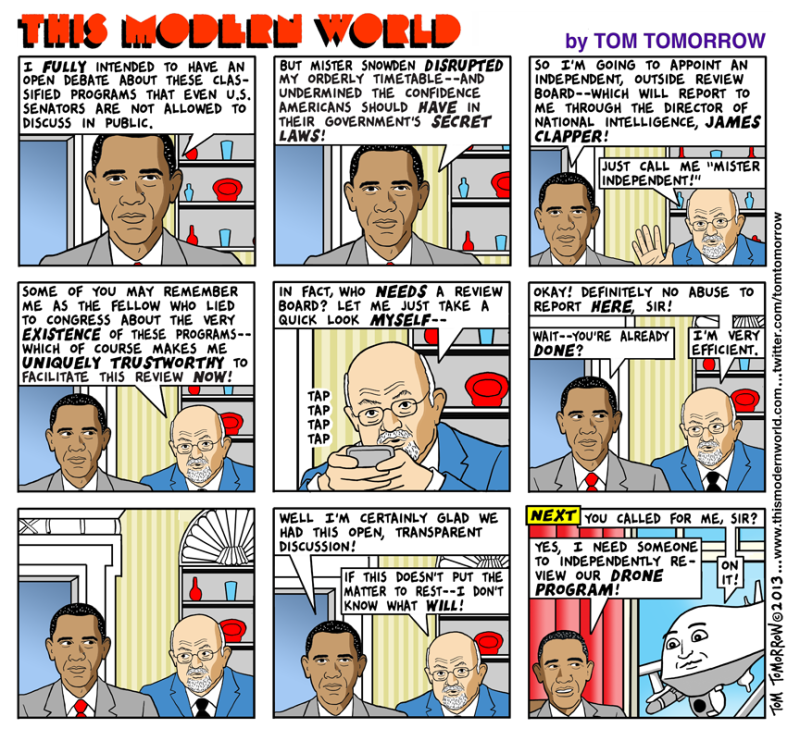 © Tom Tomorrow
You know, I don't blame Obama for all of this. After all, the Patriot Act was enacted before he was even elected, and anyone who voted against it was practically branded a traitor. We are paying dearly for our idiotic knee-jerk fear-ridden reaction to 9/11.
But Obama sure seems to be doing his best to get blamed for it. Appointing James Clapper to investigate this? Seriously? What's next? Appointing Bill Clinton to investigate adulterous sex in the White House?
As usual, I take a moderate position in this. Yes of course we need an intelligence service in this country. And of course there will be secrets kept from the American people. But the pendulum seems to have swung way too far to the extreme of too many secrets and no accountability. We need to fix this now or risk doing more damage to our country than any outside terrorists could ever do.
UPDATE: Rachel Maddow makes my point better than I could. It is almost as if our government is going out of their way to prove that government spying is out of control.
UPDATE 2: Good editorial in The Guardian "As a Democrat, I am disgusted with President Obama". I can't say I'm this disgusted with Obama, but I can't argue much with the reasons why.