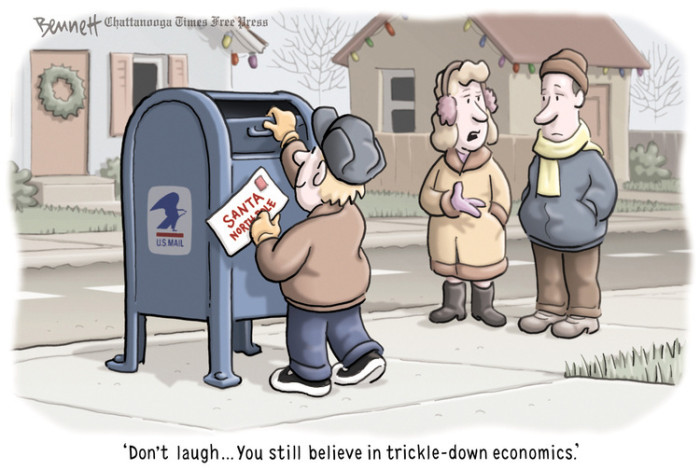 © Clay Bennett
A must read article on Juan Cole's website by Anthony Orlando points out that not only has the theory of trickle down economics been completely disproven, but there never was any evidence of it. A quick look at the historical record shows that.
Economists at the International Monetary Fund looked at 140 countries over 60 years, and "consistently found that countries with less inequality experienced stronger, more sustained economic growth and fewer, less severe recessions." The reasons for this should be obvious. Workers are also consumers. The economy is a tight loop — as workers earn more they spend more, which grows the economy for everyone, both the rich and the poor.
Even the rich know this (or at least some of them). As one wealthy entrepreneur put it, "an ordinary middle-class consumer is far more of a job creator than a capitalist like me. […] Anyone who's ever run a business knows that hiring more people is a capitalist's course of last resort, something we do only when increasing customer demand requires it."
The simple fact is that as income inequality between the rich and the middle class grows, the economy struggles. That's right. Not only does the money NOT trickle down, it makes things worse for everyone, including the rich. Ironically, another study showed that in countries where there is greater income inequality, the rich are less healthy and less happy.
Reducing income inequality means fewer boom/bust cycles as the rich chase investments, less spending on "guard labor" (police, prisons, factory supervisors), and more spending on infrastructure (health, education, research and development, safety).
But the worst thing about out-of-control income inequality is that it makes the 99% feel like they will never succeed — that the game is rigged against them. So the theory that extreme inequality motivates the middle class to try harder to get rich is completely backwards.
I agree that too much income inequality is a bad thing. But we also know that complete income equality (where everyone earns the same, no matter what they do) is also a bad thing. So, is there a magic number for income inequality that maximizes the outcome for the most people? My gut feeling is that there is not a magic number. The real goal is to maximize equality of opportunity, not of income. If everyone has the same chance to succeed, that is the best situation. So make things like education and good health care affordable for everyone, then let people like Steve Jobs and Elon Musk earn as much as they want or can.
After all, isn't that the American dream?