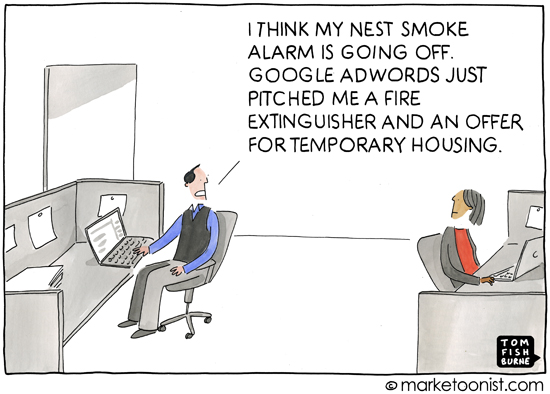 © Tom Fishburne
I have to admit that I purchased a Nest thermostat a few months ago, before there was any hint that Google was about to purchase them. I didn't get the smoke alarm option.
This comic might seem to have little to do with politics, but it is about privacy — a topic that is on everyone's minds. Has the NSA already hacked into the Nest thermostat, so it knows when you're home? What's next? A microphone to eavesdrop on what you're saying in your own home? That may sound paranoid, but an increasing number of things in your home are connected to the internet — not just my thermostat, but my TV, my telephone, not to mention all my computers (which have full video cameras, not just microphones).
So who should I be more worried about with this kind of information, the government, or companies like Google?
One way or another, I'm thinking that privacy is doomed.
UPDATE: In a vaguely related story, banking giant HSBC has started refusing to let people access their own money unless they can give a good reason why they want it. In some cases, they have asked for proof.