Think we don't need any government? Oops!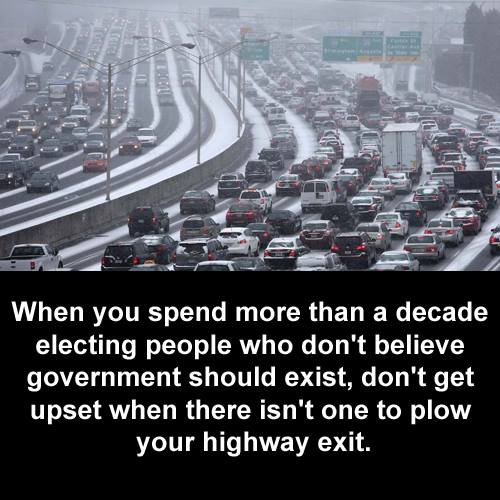 What I find hilarious is that while we all heard on the news how terrible things were in Atlanta — people stranded all night in their snowed-in cars, students forced to sleep on the gym floor at their schools or on school buses because they could not get picked up, babies being born on the side of the highway because pregnant mothers couldn't get to a hospital, mass chaos on the order of an apocalypse — the reality is that Atlanta got a freaking two inches of snow. That's right, two inches. Now that's a state of emergency! Kudos to those rugged individualists who don't need a nanny state.
Maybe next time they won't ignore those pesky governmental weather forecasters and will actually prepare for bad weather.
Meanwhile, remember the Texas school board? The people who approved teaching students that the words "separation of church and state" do not exist in our constitution? And who eliminated any mention of climate change from science classes (you know, the thing that is causing all this freakish bad weather)? Well, good news. The board has approved new rules that will help reduce the influence of politics and religion on our public schools. I for one applaud this move to stop trying to make our young people stupid.