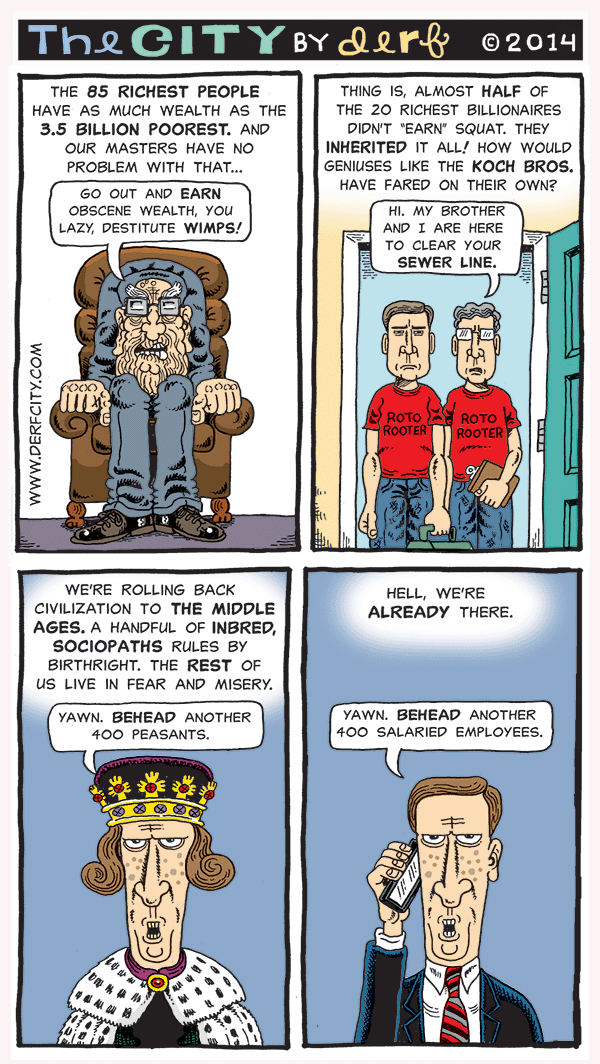 © John Backderf
Conservatives seem to think that the poor deserve their fate because they are too lazy to do anything about their situation. And you know, in a funny way, they might be right. After all, somebody has to be voting for these politicians who claim that the rich are the "job creators" and that cutting taxes on the rich and getting rid of environmental and health regulations will make the world a better place.
On the other hand, now that the rich control all the major media in this country, we are constantly showered with propaganda, so it is no surprise that people believe it. But still, the people do have the power to vote these jokers out. What will it take for them to wake up?
Of course, corporations have now succeeded in eliminating net neutrality, which means that now rich corporations will be able to control your access to blogs such as this one. So even more propaganda and fewer dissenting voices.
Are we doomed to descend into some kind of multinational corporate feudalism? Call me crazy, but I'm still optimistic that the spirit that founded this great country is still alive and that we have a bright future. And, at least for now, I'm still on the air.