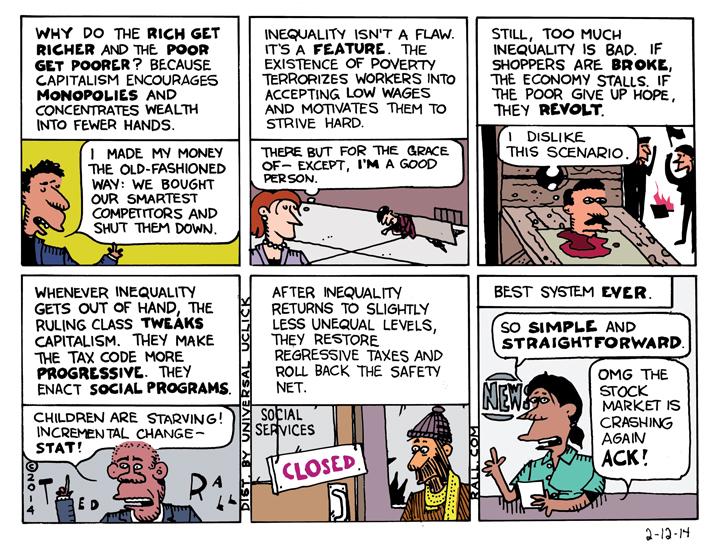 © Ted Rall
As I've mentioned in the past, I firmly believe in capitalism. So why am I posting this comic by Ted Rall that condemns capitalism as a system where income inequality is a core feature? Because I agree with Rall that capitalism, at least as currently practiced, has lost its way and has serious problems. It has become corrupt and overly greedy. But I disagree that this is a core feature. Democracies have become corrupt too, but that does not mean that democracies are bad.
The father of capitalism, Adam Smith, was deeply concerned about social justice, where everyone had equal worth and was entitled to equal opportunity. Indeed, Smith believed that a balance existed between self interest and sympathy, but that the latter had greater importance. His view was that "mercantilism" (which in his era drove colonial expansion and resulted in frequent European wars) was wrong and he worked to improve the living conditions of the poor.
What we call "capitalism" today is more like corporate mercantilism and has things in common with fascism (where corporate rights are more important than individual rights).
Want evidence? Banks that are "too big to fail" is not capitalism. Capitalism is where you take risks and you are rewarded if your efforts succeed, but also where you pay the price if your efforts fail.
Large corporations hiring lobbyists to write bills that become laws by thinly veiled bribes to politicians is not capitalism. Capitalism is where you have a level playing field, so that the smallest company has the opportunity to compete with the largest. Capitalism is where monopolies are strictly prohibited, and power is not based on how much money you have, but on how well you use that money.
Capitalism is where trademarks and copyrights are limited to the minimum time necessary to encourage innovation, and where patents are only allowed on things that are provably novel and non-obvious. In true capitalism, the copyright on Micky Mouse should have run out a long time ago, and "one click" would never have been awarded a patent.
I believe that people are entitled to reap the rewards of their success, but are not entitled to use those rewards to tilt the playing field in their own favor. That destroys capitalism.
I also believe that progress requires death. The charters of corporations should have a limited time frame and scope, and inheritance should be severely taxed and limited.
I believe that in true capitalism, people would have a guaranteed right to have the opportunity to achieve their greatest potential. This means that full education and health care should be guaranteed to all.
Ironically, these beliefs would prompt some people to call me a socialist. But that's because they have somehow perverted the idea of capitalism into something that is based purely on greed and where social goals have been sadly eliminated. And that's too bad, because repeated studies have shown that as inequality increases, everybody (including the rich) suffer. When a corporation spends more time and money on legal fees to destroy competition than it does on innovating, that is not capitalism.
Capitalism may be based on self interest, but it must be about enlightened self interest. Money and power have never been a zero-sum game.
As anyone who has started a company knows, you do much better when you have competition. Heck, as anyone who enjoys sports know, you do far better when you have good competition. How much fun is a sporting event where the "field" is tilted to give one team an unfair advantage? Not much.
We do best when everyone has the right and the ability to compete. That's capitalism. Or at least what it should be.