From Justice Ruth Bader Ginsburg's (blistering) dissent to the Supreme Court's ruling allowing certain employers to violate the law by not providing contraception as part of their health insurance:
Approving some religious claims while deeming others unworthy of accommodation could be 'perceived as favoring one religion over another,' the very 'risk the [Constitution's] Establishment Clause was designed to preclude.
The court, I fear, has ventured into a minefield.
Would the exemption…extend to employers with religiously grounded objections to blood transfusions (Jehovah's Witnesses); antidepressants (Scientologists); medications derived from pigs, including anesthesia, intravenous fluids, and pills coated with gelatin (certain Muslims, Jews, and Hindus); and vaccinations[?]… Not much help there for the lower courts bound by today's decision.
The Moonmont Chronicle imagines how this might end:
Supreme Court Rules JCPenney Allowed to Sacrifice Employees to Appease Cthulhu
Citing the newly-established precedent of corporate-religious exemption, the U.S. Supreme Court ruled Tuesday in favor of JCPenney, upholding the company's right to sacrifice pure-hearted employees in order to assuage the Dread Lord Cthulhu, Bringer of Madness.
"Our discomfort with the beliefs and practices of their faith must not supersede their religious freedoms," Justice Scalia wrote in the majority ruling. "By upholding corporate rights, we protect the rights of the individuals who compose the corporation, at the mere cost of a bi-weekly ritual sacrifice of the still-beating heart of a nubile intern or receptionist."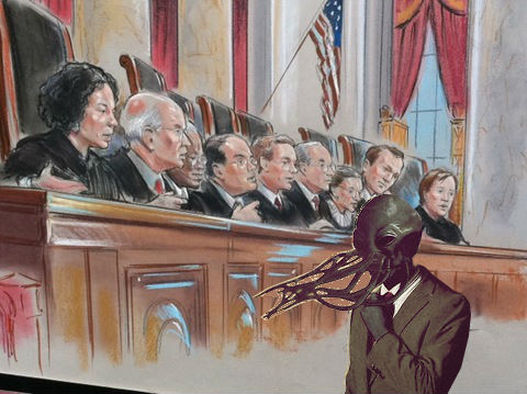 © Moonmont Chronicle
Not to mention that if owners of Hobby Lobby were Muslim rather than Christian, the same people who support this ruling would be frothing at the mouth against it. We should not be surprised when the Supreme Court uses this "narrow" ruling to further expand corporate and religious rights at the expense of individual rights.
UPDATE: Well, it took exactly one day for the Supreme Court to expand their "narrow" decision. They just expanded it to cover all contraception, even including education or counseling about contraceptives.
But the most worrisome case involves Eden Foods, whose owner claims in his lawsuit that "participating in, paying for, training others to engage in, or otherwise supporting contraception, abortion, and abortifacients" offends his "deeply held religious beliefs." Except that an interview he gave last year shows that his belief is actually political, and has nothing to do with religion. He said:
I don't care if the federal government is telling me to buy my employees Jack Daniel's or birth control. What gives them the right to tell me that I have to do that? That's my issue, that's what I object to, and that's the beginning and end of the story.
Unfortunately, the Supreme Court decision does not allow the courts to determine the "sincerity" of someone's religious belief.
I just hope that the Quakers now sue to give them the constitutionally guaranteed right to not pay the 45% of their federal taxes that go to the military, based on their sincerely held pacifist beliefs.