I was recently invited to attend a private event, a live interview with Hillary Clinton followed by her answering questions from the audience.
I had to think about it. I was never a huge fan of Bill Clinton's presidency, and Hillary was a full partner in that.
I was also dismayed by some of her tactics during the 2008 Democratic primary against Barack Obama. Not just that she ran a very aggressive campaign against him, but that she seemed to take it very personally, and by all accounts (even hers) had a hard time getting over it afterwards. I always prefer it when politicians are like athletes who compete aggressively with each other in sports but don't make it personal so they can be friends off the court.
I also lived in England during the time of Margaret Thatcher, and she always seemed to need to overcome any perceived female weakness by playing the roll of the "Iron Lady", outdoing the men in aggression and warmongering. Hillary Clinton's behavior during the primary reminded me of that, and I always worried that if she was elected, if she would do the same thing as president.
On the other hand, I am fairly sure that Clinton will be our next president (who else has any chance? And despite her coyness she is definitely running) so it would be a good thing to find out more about her. Plus I really enjoyed meeting Barack Obama and his wife Michelle (I even got to shake their hands, although I never got to talk with them personally).
So I went.
I'm really glad I did. I left impressed by her. She is not the same person she was when she was First Lady, nor the same person who ran for president in 2008. She is less ambitious and competitive, but more capable and statesmanlike. She answered every question thoughtfully (a few answers were a bit longwinded, but they were complex issues being discussed). I never felt, as I have sometimes in the past, that she was telling us the answer she thought we wanted to hear, or was giving us a politically expedient answer. The interview was almost completely free of sound bites.
I now think she will make a very good president.
If she had won the Democratic primary in 2008 I probably would have voted for her, but I think she will make a far better president now than she would have back then. She really seems to care more about the issues and about solving problems, than about political gain. She may be older, but she is definitely wiser, and she more easily commands respect. The occasional shrillness is completely gone, and she is more sure of herself.
Not only is Clinton more ready, I think the US is more ready. I think she has a much better chance of winning the presidency this time than she did back in 2008. Unfortunately, it is still more acceptable in our country to be sexist than racist, which worked to Obama's favor during his presidential campaign. If Clinton had been the Democratic candidate, I think it would have been easier for Republicans to attack her all out. Plus they could attack her for the things they didn't like about Bill's presidency. And those attacks would have worked back then. However, the Republicans have been attacking everyone for so long and in ways that are so bat-shit crazy, I think most people aren't listening to them any more. Especially the all-important independent voters; in fact pretty much everyone except for the die-hard Republican base, who would never vote for Clinton anyway. So I am confident she can win.
So that leaves one final question. We have never had a woman president before, so we don't have a title for the First Spouse. Instead of the "First Lady" would he be the "First Laddie"? Or just "Bill"? Clinton admitted that she liked the term "First Mate". Aye aye!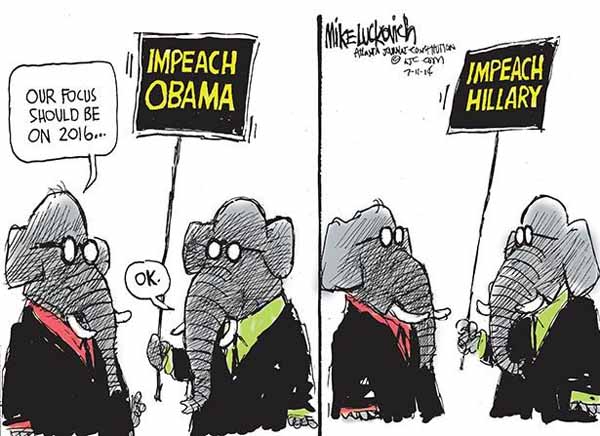 © Mike Luckovich