When you hear the exact same warning from people as divergent as Rand Paul and the CATO Institute, Glenn Greenwald and the ACLU, and even nonpolitical sources like Popular Mechanics, you suspect that you should take the problem seriously.
The problem? The escalating militarization of police departments across the country. Do police still protect citizens, or are they acting more like occupying forces? These people see the police action that is happening in Ferguson MO as frighteningly similar to military action like in Iraq or Afghanistan.
How did this happen? The recent escalation was caused by the post-911 "War on Terror", which threw advanced military equipment at local police forces, including machine guns, silencers, flash-bang grenades, and even tanks and aircraft. But it had its roots in earlier faux wars, like the "War on Drugs", the creation of SWAT teams and the introduction of military tactics to routine policing.
A side effect of this, as we are seeing in Ferguson is that police increasingly treat the media as an enemy. This is a recipe for tragedy.
Indeed, even other police chiefs have criticized the aggressive police response in Ferguson, saying "you always have to be careful to walk a fine line not to over-react. Sometimes a big show of force in the beginning may not be the proper way to deal with it." "Suiting up in riot gear and tossing tear gas is probably the worst way to deal with civil unrest."
Invariably, escalation on one side invariably leads to escalation on the other. Indeed, Palestinian citizens have been tweeting messages of support to the protestors in Ferguson, including tips on how to deal with tear gas.
There has been some political response, such as a bill to curb the transfer of surplus military equipment to local law enforcement agencies for free, but with arms manufacturers (who have lots of lobbyists) making lots of money from this, it is doubtful anything will happen.
Another problem is the almost complete lack of police accountability. A Wisconsin man whose handcuffed son was shot point-blank in the head by police in front of his wife and daughter reports that the officer who killed his son was cleared of any wrongdoing in 48 hours, without taking statements from eyewitnesses. He also found that "In 129 years since police and fire commissions were created in the state of Wisconsin, we could not find a single ruling by a police department, an inquest or a police commission that a shooting was unjustified."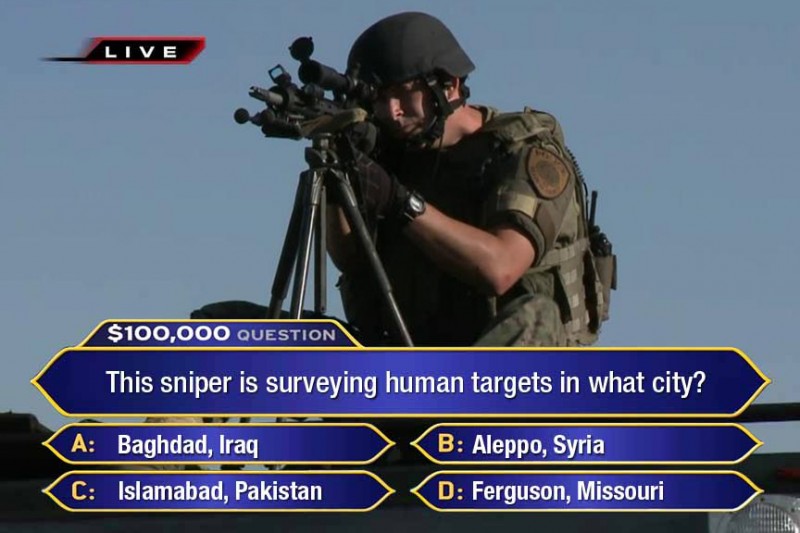 UPDATE: Kareem Abdul-Jabbar has a powerful essay about what is going on, and what needs to be done: "The Coming Race War Won't Be About Race".