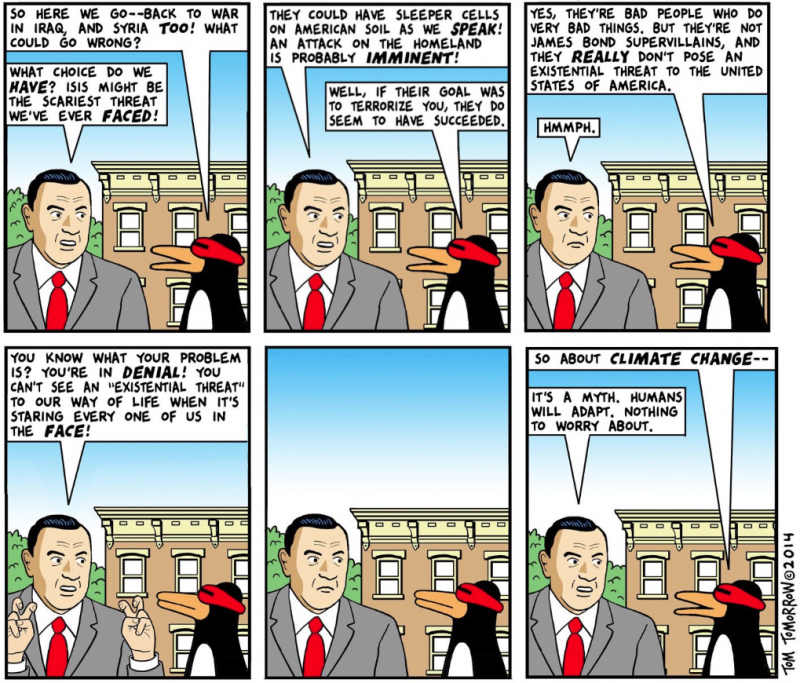 © Tom Tomorrow
Another brilliant comic from Tom Tomorrow. Isn't it strange that we have to attack Syria, international law be damned?
The terrorists seem to have figured out a winning strategy for them. Do something outrageous that pisses off the American people (9/11, beheadings, even genocide) and then sit back while the American response becomes the best recruiting tool they could ever want, and paid for by the American taxpayers!
Heck, Republicans even told Obama that he should take the lead on this one. Who thought that would ever happen? Of course, they are mainly doing this so they can blame him for whatever goes wrong in the Middle East, completely ignoring the amazingly stupid things they did to screw it up. After all, they seem to think that Dubya kept us safe from the terrorists.
Likewise, Republicans are continuing to deny climate change. We've had 25 years to do something about this before it is too late, but … oops.