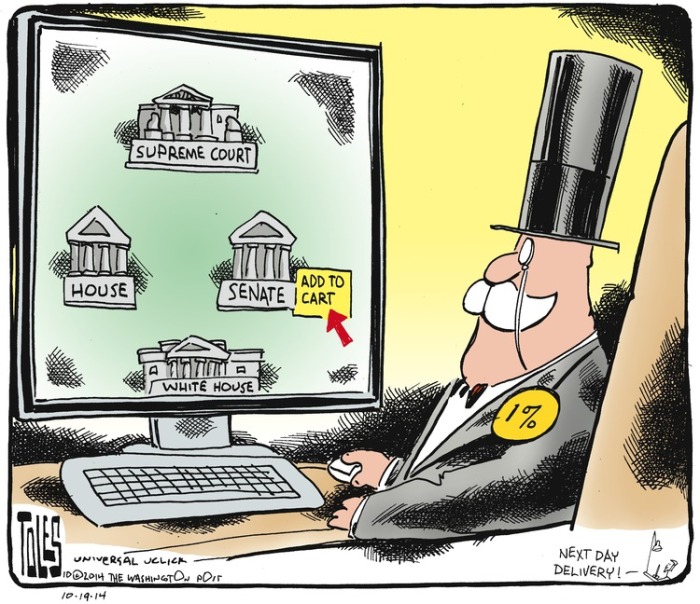 © Tom Toles
With free shipping and next day delivery, and complete secrecy guaranteed by the Supreme Court!
Our favorite data-driven prognosticator of elections, Nate Silver, is predicting that the Republicans have a 62% chance of winning a majority in the Senate, while the Democrats have a 38% chance of keeping the majority.

That's a whopping 24 point spread. And over the last few weeks, the GOP chances have been increasing.
How is this happening? Simple, money.
More than $100 million has been spent on just one Senate race in North Carolina. That flood of money bought around 80,000 TV ads — at one point this month that means that there were three TV ads running every five minutes, and that's just for a single race.
Campaign spending has exploded since the U.S. Supreme Court's 2010 Citizens United ruling, which opened the door to more money from corporations and labor unions. Critics say that gives wealthy donors a disproportionate voice.

"The most affluent donors are calling the shots," says Sheila Krumholz, executive director of the Center for Responsive Politics. "They're picking races to target … that offer an opportunity to flip the Senate and therefore shift the balance of power in Washington.
And it isn't 1% anymore. According to the NY Times, in the 2012 elections 1% of 1% of the US population accounted for 28% of all campaign contributions. And that's just the money we know about. In the upcoming election we now have no way to know where the majority of the money is coming from:
More than half of broadcast advertising in the midterm elections has been paid for by groups that reveal little or nothing about their donors. Overwhelmingly, the main beneficiaries have been conservative organizations.
UPDATE: Just a day later and Nate Silver has now raised the GOP odds of taking over the Senate to 63.2%, increasing the point spread to 26.4.
UPDATE2: It hasn't even been 24 hours since my update this morning, and now Nate Silver has raised the GOP odds of taking the Senate to 65.7% (and the point spread to 31.4%).