So in the aftermath of the midterm election, some emboldened Republicans are making plans. For example, Congressman Joe Barton (R-TX) has said that impeachment "would be a consideration" if Obama moves forward with executive action to solve our immigration problems. In addition, Republicans have said that they will force the approval of the Keystone XL pipeline from Canada to the Gulf of Mexico, which Obama has delayed pending resolution of a court case in Nebraska over the pipeline.
Now here is where it gets ironic. Since June, the price of oil has decreased by 28%. Tar sands oil, which is what Keystone will be carrying, costs between $85 to $110 per barrel to produce. But crude oil is currently selling for $77 a barrel, so the tar sands oil would have to be sold at a loss. Even if we allow the Keystone pipeline to be built, it would go unused unless the price of crude oil goes up dramatically.
And about that impeachment thing. Obama has repeatedly said that if the Republicans would send him a bill he would not take executive action, but if they don't, then somebody needs to do something to solve the immigration crisis. So Obama has said that he will take executive action to avoid breaking up families by deporting people who are illegal immigrants, but are married to US citizens.
Where were the protests when Ronald Reagan and George H.W. Bush both did the same thing? They extended amnesty to family members by executive action and there was barely a peep out of anyone. I guess if St. Ronnie does it, it is ok, but if Obama does it, it is grounds for impeachment.
Once again, the Republicans are against anything Obama does.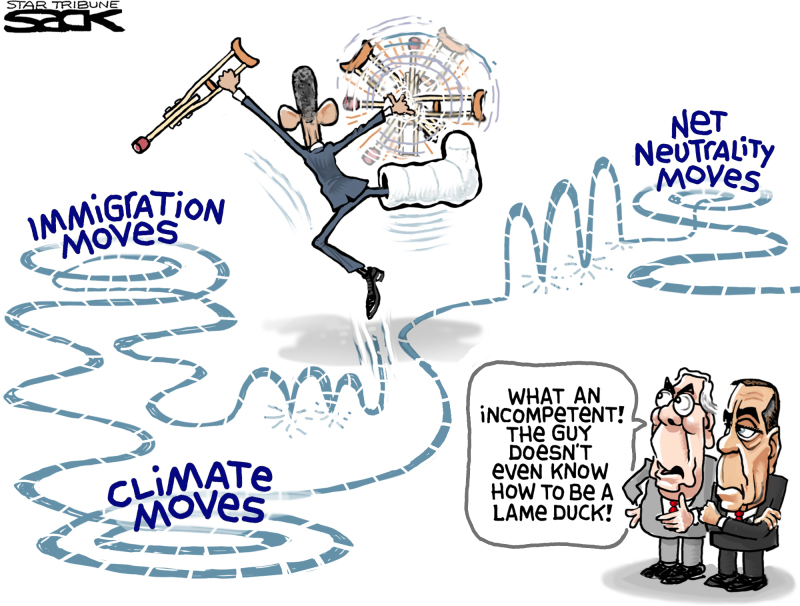 © Steve Sack