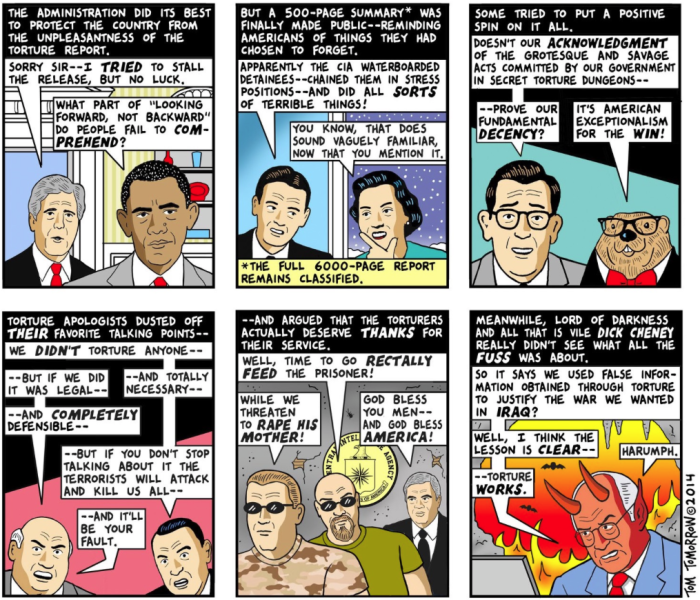 © Tom Tomorrow
The Irony. New survey polls done by The Washington Post, ABC, and CBS show that either Americans have mixed feelings about our use of torture, or else that they really don't want to think about it.
For example, 69% of Americans consider waterboarding to be torture, but despite this, 59% think the use of torture against suspected terrorists was justified in the wake of 9/11.
And while 54% believes that the CIA intentionally misled the White House, Congress, and the American people about its use of torture and whether or not it produced valid intelligence, the vast majority of Americans still claims that our torture produced useful intelligence. This despite the Senate report that concluded that torture did not produce any actionable intelligence.
Intelligence officials continue to claim that torture (or "enhanced interrogation techniques" as they like to put it) provided valuable intelligence, and I just realized the disconnect. Study after study shows that people being tortured will tell their tormentors anything they think they want to hear to get the torture to stop. And what the Bush administration wanted to hear was that there was a link between Iraq and Al Qaeda. So torture produced "intelligence" that was "valuable" to them (even if it was completely fabricated), allowing them to justify attacking a country that we now know had absolutely nothing to do with 9/11. Mission Accomplished!
It gets even more interesting if you look at the responses by group. It seems like the more religious you profess to be, the more you support torture. For example, 69% of white evangelical protestants said that torture was justified, while only 40% of people with no religion said that torture was justified. That's the Christmas spirit!
Of course, the group who supports the use of torture the most are conservative Republicans at 72%. The least are liberal Democrats at 38%.
Bottom line to me. How can anyone who claims to be an American believe that it was acceptable to sodomize children in front of their mothers (while cameras were rolling)? Are we really that depraved? Does anyone sincerely believe that made us safer?