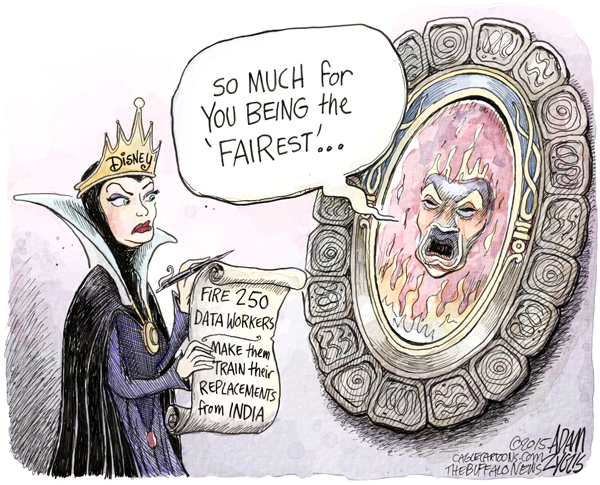 © Adam Zyglis
It's no fairy tale. According to an article in the NY Times, around 250 information technology employees working for Disney were laid off from their jobs. These are the people who keep the computer systems running at DisneyWorld.
But the ironic part is that in order to get their severance package, these workers were required to train their replacements. They weren't laid off because their work wasn't needed, instead, they were replaced by foreign workers (brought in by outsourcing firms from India) with temporary work visas (called H-1B visas), who would work for significantly less money.
But according to federal rules, H-1B visas are supposed to be used to allow foreign workers to come in on a temporary basis when there are no Americans with the required skills. Indeed, they are required to not "adversely affect the wages and working conditions" of Americans. Instead, the reality is that the majority of H-1B visas are going to outsourcing companies.
Now, I am not entirely against outsourcing. As the founder of several technology startups, I have even used outsourcing. But only when there was a specific, limited term project and it didn't make sense to spend the time and effort to hire a bunch of highly skilled people who would then need to be laid off after the project was done.
Laying off a bunch of workers and replacing them with H-1B visa holders goes completely against the spirit of the law, and is only possible because of numerous loopholes. These loopholes need to be closed.
Even worse, companies are often shooting themselves in the foot when they pull stuff like this just to save a little money. The theory that highly skilled workers are fungible assets (can be replaced by lower cost workers who can then do the same job) has been shown to be false over and over again. Workers are not just a set of replaceable skills. Companies (like Costco and Starbucks) who try hard to keep their workers happy and reduce turnover rates tend to have happier customers and end up making more money.
How can Disney claim that its parks are the "Happiest Places on Earth" if their employees are not happy?