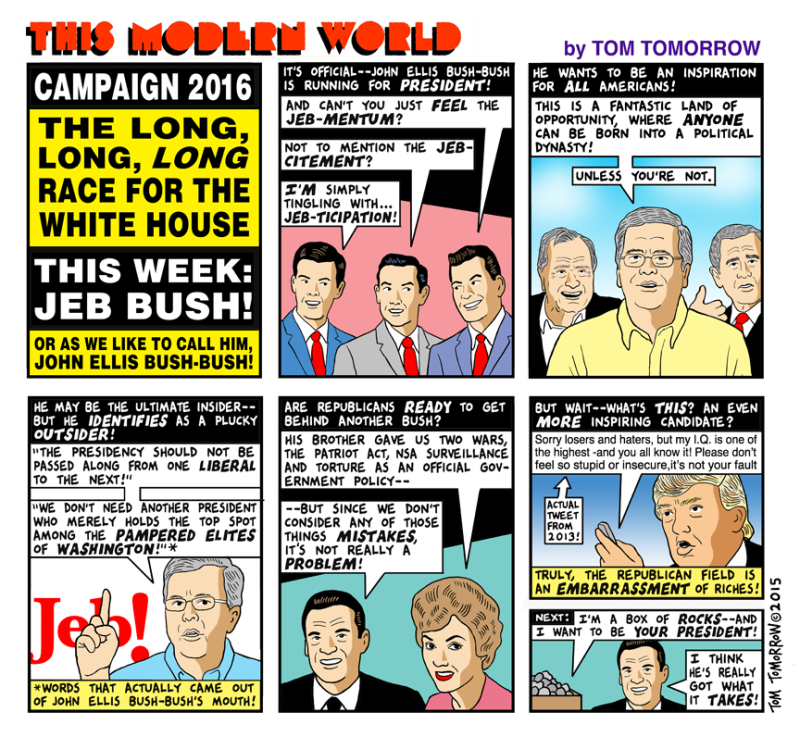 © Tom Tomorrow
Part of me (a rather small part) actually wants the upcoming presidential election to be between a Clinton and a Bush. Holy deja vu Batman!
I have a question for readers. Leave your answers in the comments. Assume for a (brief) moment that the next president had to be picked from one of the Republican candidates — a long list, which now includes Chris Christie, John Kasich, and Scott Walker, along with Jeb Bush, Ben Carson, Ted Cruz, Carly Fiorina, Lindsey Graham, Mike Huckabee, Bobby Jindal, George Pataki, Rand Paul, Rick Perry, Marco Rubio, Rick Santorum, and Donald Trump. Which one would you pick, and why? Note that I am explicitly not allowing you to pick a GOP candidate because they would be easy to defeat by your favorite candidate from another party — assume for a moment that the GOP will win this election. No fair voting for a box of rocks.
Bonus points: predict who you think will actually win the Republican nomination. I'm willing to go out on a limb with this question and state that I think John Kasich will win the nomination — but for Vice President.
UPDATE: Jim Webb has just announced his candidacy for president. I think Clinton has found her running mate, and he's somebody who served under Reagan!